[bsa_pro_ad_space id=4]
August 7, 2014 – Since May 2014 Künker has been located in new premises at Nobbenburger Straße 4a. Now, the complete staff is concentrated in one single building. For our clients, nothing has changed besides the address: Nobbenburger Straße 4a is quite close to the old headquarters. And the auction sales will remain at the Steigenberger Hotel Remarque.
Lack of space forces relocation
For years, space had grown ever more scarce at the House of Künker. The old premises did not have enough desk space for all 40 employees. The rooms were divided between two houses, and in the case of the library, three. For that reason the management of the House of Künker decided it was time to move: but not to just any space. The new space was to be perfectly tailored to the needs of a coin dealership with an auction business. Therefore, a newly-constructed building was planned.
The new building, which was officially presented to colleagues and clients on the occasion of the 250the auction sale.
In August of 2012 a suitable property was acquired. The groundbreaking took place in June of 2013. The move followed in May of 2014.
Offices for 40 employees
Friendly, open spaces with outside visibility and beautiful furnishings now characterize the company's public image. Numismatists are, above all, happy about the fact that the library has finally been reorganized, and is easily reached. 800 linear meters of shelf space provide a great deal of room for new publications!
The heart of the house is the giant, passable safe with 60 cubic meters of interior space, boasting the most up-to-date security technology.
A spacious customer area
Security is a big issue today. And that's the reason why the office space is strictly separated from the customer area. Approximately one-third of the house is reserved for customers. Those who wish may enter the premises directly from the company's own underground parking garage.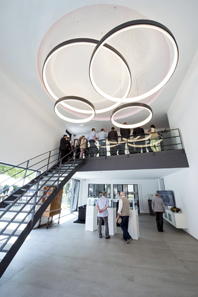 The spacious reception room.
The customer area is divided into three sections on three floors. For day-to-day business a spacious reception room is available. Those who have other matters to discuss are directed to the "oval office", a well-lit meeting room which owes its nickname to its big oval table. Those who want to view coins from the coming auction must come up to the third floor, where the large gallery offers the best daylight conditions.
The new location has changed nothing in the Künker philosophy: The clients' interests come first.
Current offerings and auction sales you can find on the website of the company.