[bsa_pro_ad_space id=4]
Künker eLive Auction 72 – Something for Everyone
Whether you are interested in Celts or Sicily, in Oldenburg or Prussia, in Reichsgold coins or knightly orders: You are sure to find something exciting among the over 3,400 lots of the Künker eLive Auction 72 – and despite the quality at affordable prices.
Coins and medals from ancient to modern times:
Monday, 18 July – Thursday, 21 July 2022, from 5 p.m. each day
Orders and decorations:
Friday, 22 July 2022, from 4 p.m.
Numismatic Literature:
Sunday, 24 July 2022, starting at 3 p.m.
Coins and Medals From Ancient to Modern Times
On the first four auction days nearly 2,600 coins from the ancient world to modern times will be on offer. The spectrum of the 398 ancient coins ranges from the Celts to the Orientals. Worthy of special mention is a small but very interesting lot of mis-struck coins (Avers-/Reversincusa), among them a didrachm of Taranto from the collections of Michel Pandély Vlasto and Theodor Prowe (lot 33). Numerous coins depicting ships or parts of ships will certainly be of interest to numismatists. But also a small series of Celtic gold coins as well as numerous Greek and Roman coins should not remain unmentioned.
This is followed by over 1,200 modern coins and medals, including a very interesting collection from Oldenburg, with some rarities, such as a Groten minted by Johann V in 1502 (lot 1289) or a Doppelschilling minted in Jever by Anton Günther in 1654 (lot 1323). Furthermore, we recommend you to take a closer look at a small series of Prussian coins with some rarities, including interesting pewter strikes. The offer of Reichsgold coins is the most extensive in this auction, with quite nice qualities, the focus is on Baden, Bavaria, Hamburg, Hesse, Prussia, Saxony and Württemberg.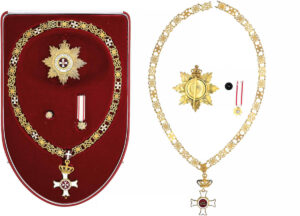 Orders and Decorations From the Peter Groch and the Karl-Heinz Knüppel Collection
On Friday, the auction of orders and decorations will follow. On offer are the Peter Groch Collection, Part 8 with duplicates of German States and the Karl-Heinz Knüppel Collection with a focus on the French Legion of Honor, the Holy See (Vatican) and the Sovereign Order of Malta. Orders, decorations, medals, buckles, certificates, badges and small insignia of the German states, the German Empire from 1871 to 1933 and the Order of the Knights Templar in Germany come from various collections. Among the foreign decorations, the focus is on a series of Interallied Victory Medals 1918, on Belgium, France, the Italian states and Italy, the Sovereign Order of Malta, Montenegro, Austria, Portugal, Spain and the Holy See (Vatican). Overseas pieces include those from Afghanistan, Japan, Persia and Peru.
Numismatic Literature
The eLive Auction 72 will conclude on Sunday, 24 July 2022, starting at 3 p.m., with around 450 lots of numismatic literature.
You can access the auction catalogs online.
If you want to submit your bid from your computer at home, please remember to register at eLive-Auction for this service in good time.