[bsa_pro_ad_space id=4]
04-12-2017 – 06-12-2017
eLive Auction 47
Künker eLive Auction 47 online
Künker's eLive Auction 47 is online with more than 1,600 lots, featuring pieces ranging from the ancient world to modern times as well as 700 lots with orders and decorations. The eLive Auction will take place from 5 to 7 December 2017 at 6 pm each.
Live auction starting dates / Timetable
Tuesday, 5 December 2017 – 6 pm
Lot No. 1-705: Coins from the Ancient World, Overseas, Europe, Holy Roman Empire
Wednesday, 6 December 2017 – 6 pm
Lot No. 706-1611: Germany, German Coins after 1871, Lots
Thursday, 7 December 2017 – 6 pm
Lot No. 2000-2761: Orders and Decoration
Some of the highlights of eLive Auction 47
Lot 72
Byzantium. Romanus III, 1028-1034. Histamenon, Constantinopolis. Estimate: 250 euros. Rare. Almost extremely fine.
Lot 448
Russian Empire. Alexander III, 1881-1894. 25 kopecks 1890, St. Petersburg. Estimate: 1,750 euros. Very rare. Only 2,006 pieces struck. Extremely fine.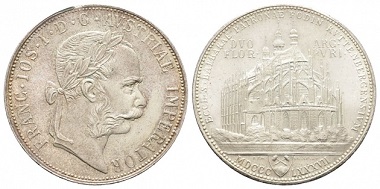 Lot 667
Austrian Empire. Franz Josef I, 1848-1916. Doublegulden 1887, Vienna. Estimate: 2,000 euros. Rare. Only 400 piece struck. Nice patina, extremely fine-uncirculated.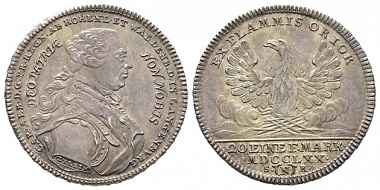 Lot 1115
Principality of Hohenlohe. Karl Albrecht, 1750-1793. 1/2 Taler 1770, Nuremberg. Estimate: 600 euros. Rare in this condition. Very attractive piece with a magnificent patina, extremely fine-uncirculated.
Lot 2056.
Kingdom of Hanover. Guelphic Order. Commander's cross, perhaps British manufacturing, edition with larger acanthus leafs and large hinge, gold chased and engraved, enamels, 53.9 g. Estimate: 3,000 euros. Very rare. II.
Lot 2757.
Ottoman Empire. Order for Charity. Decoration of 2nd class, edition with star and laurel wreath on the reverse, gold, manufactured hollowly, enamels, set partly à jour with about 120 old cut diamonds, diamond roses and splinters and 35 ruby roses, 48.7 g. Estimate: 3,000 euros. Rare. II.
In order to participate live at the eLive Auction you will need a personal myKünker-account. To register click here.
And here you can find the eLive Auction 47.