[bsa_pro_ad_space id=4]
August 18, 2011 – Krause Publications has released an innovative new series of coin folders that will be fun for children and parents alike: Decades coin folders.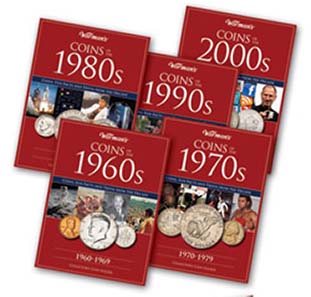 Decades coin folders.
Comprised of five coin folders covering each decade from 1960 through 2009, Decades folders combine traditional folder elements with fun and educational lessons about history, pop culture, and coins.
"We are really excited to make our new Decades coin folders available to collectors," says KP numismatics publisher Scott Tappa. "It is easy to envision a parent or grandparent filling these folders with coins while teaching their child or grandchild about significant events from the year depicted on the coin, like the fall of the Berlin Wall, Watergate or the Beatles' landmark appearance on the Ed Sullivan Show."
Each four-panel folder provides holes for collecting one of each type of circulating coin from a given year. The coins range from commonly-found cents, nickels, dimes and quarters to harder-to-find half dollars and dollars.
Along the bottom of each folder is a timeline covering the important milestones of the decade covered. Some milestones and facts – U.S. population, Super Bowl winner, cost of a first-class stamp, Academy Award winners – are noted for each year. Another important element in each folder is a concise yet thorough essay on developments in coinage during the decade.
Decades coin folders can be found wherever coin books and collecting supplies are sold or online.
For more information click here.