[bsa_pro_ad_space id=4]
Within just a few minutes of speaking to Jerome Martin Eisenberg, you could really tell that he was somebody who absolutely loved what he did. He had a burning passion for ancient objects, and he felt the need to share that passion with everyone around him, whether they were a wealthy collector or a young boy who had just picked up a ushebti for the first time in his life. Jerome Eisenberg lived out his passion with the Royal Athena Galleries in New York, and he was among the loudest voices calling for the trade in archaeological objects – from coins to ancient artwork – to be conducted in an ethically responsible way. In the last few years of his life, he was deeply hurt to find that some critics of the antiquities trade could not – or would not – understand the fact that ethical responsibility looked very different in the 1960s than it does today.
A Childhood Passion that Shaped a Lifetime
Jerome Eisenberg, born on 6 July 1930, was one of those people who never have wondered what to do with their lives. He liked to tell people that his passion for the ancient world was sparked by a visit to Boston Museum of Fine Arts, and that he was already trading ancient coins with his father at the age of 11.
After completing his military service in 1951, Jerome Eisenberg founded a coin dealership in Boston. He earned a bachelor's degree in Geology at Boston University, before continuing his studies in Art History and Archaeology at various American universities, and with Jiří Frel at Charles University in Prague. And this academic training was just the start. Jerome acquired most of his in-depth knowledge in practice, while examining and describing tens of thousands of ancient objects.
Jerome Eisenberg was one of the top experts in his field, with an unerring eye often used to distinguish "genuine" from "fake". He gained renown in the expert community with his article on the Phaistos Disc, which he believed to be a fake produced by the Swiss restorer Emile Gilliéron – just like the Snake Goddess of Knossos. Gilliéron is famous (or rather infamous) among experts for having "restored" the frescoes of Knossos, not on the basis of any findings, but rather with a great deal of artistic freedom.
Jerome Eisenberg became a sponsor of the American Numismatic Society in 1955, and he joined as a member in 1998. In 1996, he was invited to the Institute of Classical Archaeology at Leipzig University as a "visiting professor" to share his knowledge with a younger generation.
Royal Athena Galleries – More Than 60 Years Under Jerome Eisenberg
In 1958, Jerome Eisenberg opened the Royal Athena Galleries in New York, which he didn't close until the end of October 2020, when he retired at the age of 90. During the 62 years between opening and closing the galleries, he published countless catalogues of antiquities, which he described in impeccable detail to make them easy for collectors to understand. Jerome Eisenberg was proud to have traded over 40,000 objects in his Royal Athena Galleries, not a single one of which, to his knowledge, was of dubious provenance – that was greatly important to him.
In order to give his collectors a deeper understanding of the ancient world and its relics, Jerome Eisenberg founded the magazine "Minerva" in 1990, which he ran as editor-in-chief for many years and turned into an institution of the field.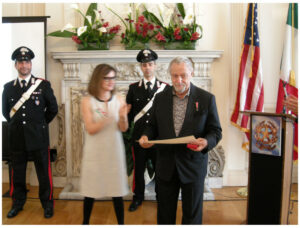 The Fight for a Clean Antiquities Trade
We might very well call it a tragedy that, in the last few years of his life, a man so committed to upholding ethical responsibility in the antiquities trade was attacked for not having aligned himself, in the past, with today's standards.
Jerome Eisenberg advocated integrity in the antiquities trade – not just in theory, but in practice too. In 1993, he was one of the founding members of the International Association of Dealers in Ancient Art (IADAA), which promotes conscientious art trading through its strict code of conduct. Jerome Eisenberg was repeatedly invited to conferences and events to speak about the rules of an ethically responsible antiquities trade. He always set high standards for himself, too. The fact that even his moral and ethical standards, which were enormously high for the 1960s and 1970s, no longer meet the demands of some activists today will not cast any shadow over his life's work, except in the eyes of those who do not understand that all values are constantly changing and that the methods used to investigate a piece's provenance in the past are simply not comparable to modern research.
Whenever Jerome Eisenberg learned retrospectively that he or a fellow dealer had been deceived about the provenance of an object, he did everything in his power to return that object to its original owner. In 2012, CoinsWeekly reported that Jerome Eisenberg had been awarded the Ordine della Stella della Solidarietà Italiana (Order of the Star of Italian Solidarity) and the title of "Ufficiale" by the President of the Republic of Italy for his repeated and instrumental involvement in the restitution of ancient objects that had been illegally excavated in Italy or stolen from Italian museums.
He was deeply saddened to find that an increasingly hostile public was accusing him of having traded some illegally exported objects, despite his careful purchasing policy. As he once told a journalist: "I have tried to comply zealously with all of the American regulations and international treaties governing objects of cultural importance. I am unfortunately both an idealist and a hypocrite, since I have no doubt unknowingly bought many objects legally from galleries and auction houses in England, Germany, France and Switzerland that were once exported illegally from their country."
Jerome Martin Eisenberg died on his birthday, 6 July 2022, due to complications of pneumonia. All of us here at CoinsWeekly honour the life of a colleague whose work changed the world of the antiquities trade for the better.