[bsa_pro_ad_space id=4]
In 1872, 150 years ago, Japan's first railway line opened. To mark the occasion, the Ministry of Finance has decided to issue a commemorative coin. The coin is made of silver and has a face value of 1,000 yen. It weighs 31.1g and has a diameter of 40mm. The mintage is expected to be 70,000.
The obverse is coloured. Based on a contemporary Nishiki-e woodblock print by Tsukioka Yoshitoshi, it shows a train on a section of Japan's first railway line that connected Shimbashi (Tokyo) and Yokohama. We see the Takanawa railway embankment running on the water off the coast.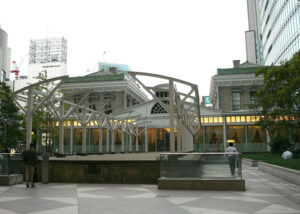 The reverse side shows the old Shimbashi station, a starting and terminus station of the first railway line. The old station no longer exists, but there is a reconstruction in Tokyo showing the condition when the station opened.
The commemorative coins can be ordered from the Japan Mint by post from 5 October 2022. They will be shipped from mid-February 2023. The price of the coin is listed at 12,300 yen (currently ca. US$86).
Click here to visit the Japan Mint website.
In the online database of Cosmos of Collectibles you can find more issues from Japan!
Don't miss any new coin issues! Subscribe to the Cosmos of Collectibles newsletter for free.
Japan is known for its fast trains. Watch the trains that the country has newly introduced in 2020.