[bsa_pro_ad_space id=4]
Italy's Numismatic History at its Best
Nomisma's Numismatic Auction 62 presents 1,721 lots of ancient and modern coins, foreign coins, papal coins and medals, Napoleonic medals, Italian mints, Savoy and Italian Kingdom coins and coins of the Italian Republic. Auction 62 will be held on Tuesday 15th and on Wednesday 16th of September 2020 at Palace Hotel of Serravalle (Republic of San Marino) and it will be possible to participate live on Bid Inside. Live auction will be available for registered users.
These are some of the highlights: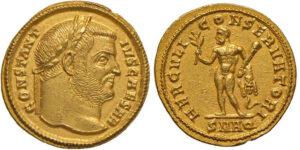 Lot 94
Constantius I (293-305) – Aureus (Aquileia) Laureate head on reverse – on obverse Hercules standing, SMAQ – RIC 8 AU (g 5,28) Extremely Rare, minimal scratches and a modest porosity. Grading: SPL+. Starting price: 8,000 EUR.
Lot 596
Livorno. Cosimo III de Medici (1670-1723) Ongaro know as "della Fama" – MIR 74 AU (g 3,44) Extremely rare .Ex Sincona, 29/2016, lot 1585 (sold at 17.000 CHF).
Grading: SPL. Starting price: 15,000 EUR.
Lot 694
Modena. Francesco I d'Este (1629-1658) Doppia 1632 with Spanish like collar on reverse – MIR 738 var. AU (g 6,46). Ultra rare. Little crushes on the margin but a beautiful example of this probably unique coin which differs from the entire production of the Modena doppia in having the reverse bust with a Spanish collar. In Ravegnani Morosini catalogue, for example, it is not registered. Grading: BB+. Starting price: 25,000 EUR.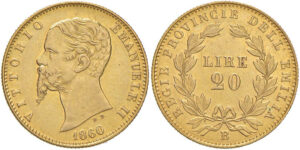 Lot 1451
Victor Emanuel II elected king (1859-1861) 20 Lire 1860 B – Nomisma 821 AU – Extremely rare. Struck in 159 pieces only. A very fascinating coin that constitutes a transition towards the coinage of the Kingdom of Italy. The mintings were engraved by Donnino Bentelli. Grading: SPL/SPL+. Starting price: 70,000 EUR.
Lot 1471
Victor Emanuel II (1861-1878) 50 Lire 1864 Turin – Nomisma 846 AU – Extremely rare. Struck in 103 pieces only. One of the rarest and most sought after coins of the Kingdom of Italy. Fields cleaned up. Grading: BB+/qSPL. Starting price: 100,000 EUR.
Here you can browse through Auction 62 catalogue.
Foor further information, visit the website of Nomisma.