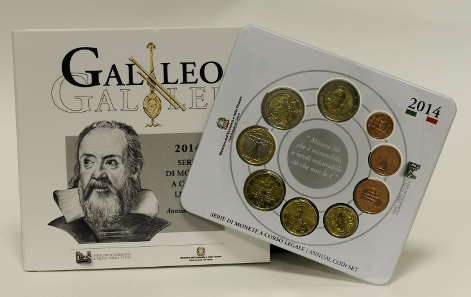 [bsa_pro_ad_space id=4]
September 4, 2014 – The Italian Mint has issued its annual Brilliant Uncirculated set, which includes BU examples of all eight circulating coins and one of the circulating commemorative 2-euro coins for 2014 in honor of astronomer Galileo Galilei. The set contains a face value of 5.88 euros in coins. It was released on the 17th June by the Italian Mint.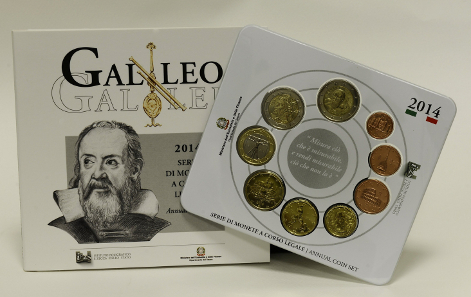 The Italian 2014 coin set.
The BU set consists of all eight circulating euro coins, from cent to 2-euro piece, with an additional 2-euro BU coin celebrating the 450th anniversary of the birth of Galileo Galilei. Each coin is housed in a sleeve with a special design in honor of Galileo.
Justus Sustermans, Portrait of Galileo Galilei, 1636. Source: Wikicommons.
The history knows Galileo Galilei as an Italian philosopher, mathematician, astronomer. He did not only play a major role in the scientific revolution but has also been called the 'father of modern observational astronomy' and the 'father of modern physics' and 'father of modern science'.
The Galileo 2-euro coin is one of the two circulating commemorative 2-euro coins for Italy in 2014.
The obverse side features the famous astronomer Galileo Galilei, based on the painting by Justus Sustermans that is found in Italy's Uffizi Gallery in Florence. On the right, superimposed letters 'R' – monogram oft the Mint of Rome, astronomic telescope and 'C.M.' – monogram of the designer Claudia Momoni. On the left you see superimposed letters of the Italian Republic monogram 'RI'. The mintage of the coin is 6,5 million.
Special Uncirculated and Proof sets also including the Galileo 2-euro coin (and a commemorative silver 5-euro coin of unknown theme) are due for release July and November 2014.
More information on the BU coins and sets you'll find on the official website of the Italian Mint.
For a short overview of Galilei's life and achievements you can watch a 2-minute video clip: Galileo in a nutshell.