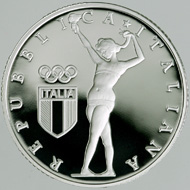 [bsa_pro_ad_space id=4]
June 12, 2014 – 100 years ago, in 1914, the Italian National Olympic Committee (CONI) was founded. It is responsible for the development and management of sports activity in Italy and a member of the International Olympic Committee (IOC).
Italy / 10 euros / 925 silver / 22g / 34mm / Mintage: 5,000.
The obverse of the 10 euro silver coin shows the sculpture "Olympic Victory" by Emilio Greco. On the reverse of the coin representation of the "Discobolus", the discus thrower, by the Greek sculptor Myron.
New Italian coins are shown on the website of the Italian Mint.
If you want to learn more about the Italian National Olympic Committee go to the IOC website …
… or to the CONI site.
If you are interested in the work of the late sculptor Emilio Greco visit his archive online.