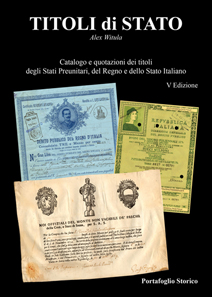 [bsa_pro_ad_space id=4]
By Franky Leeuwerck
June 7, 2018 – Last year, the scripophily public welcomed a new edition of Alex Witula's reference catalogue on Italian state securities. Titoli di Stato will be a delight to anyone interested in the collection, valuation and study of bonds and securities issued by the Italian government and the pre-Italian unification states as early as the 16th century. More than reason enough to have a talk with one of the most prolific authors in our field!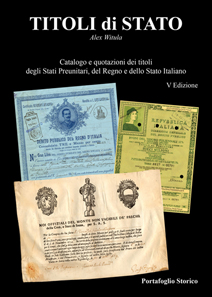 Alex Witula, Titoli di Stato – Italian State Bonds, Bologna 2017. 736 pp. partly colorized, ISBN 978-8895848-01-3, 65 Euros. Only available in Italian.
The volume starts with several chapters on the aspects of collecting antique securities. The actual cataloguing part is divided into the following chronological sections: Italian preunification states (pre-1861), Kingdom of Italy (1861-1946), Italian Republic (1946 – present). Each one of these is in turn subdivided into categorizing chapters. Titles are ordered by their authorizing law date and then by issue date. Each issue is described with name, denominations, place, vignette, color, possible variations, etc. and also a value indication. The bulky compendium features about 700 images and historical paragraphs including maps.
The following is an interview that journalist Franky Leeuwerck has conducted with the book's author, Alex Witula.
Question: Mr. Alex Witula, welcome in my virtual studio. Please tell me, what is your new book about?
Answer: The 5th edition of the catalogue of the "Italian public debt" is now available under its new name: "State bonds". The change of the title of this book has a psychological reason: the collective consciousness in Italy considers the public debt as something negative. In this way I hope to get more readers not only from the collector's side but also from the general public.
Certificate for 20 Treasury bonds of 5,000 Lire, 1962. Vignette: Nettuno offre doni a Venezia, by Giambattista Tiepolo (1696-1770).
Q: Why did you decide for another, 5th, edition?
A: The result of this catalogue is a teamwork of several dozens of collectors with contributions of colleagues and friends. The previous, 4th, issue is dated 2012 and it took 5 years to get the new catalogue as near as complete, at least in its structure. The listing of all principalities and small states in the Italian peninsula before the unification of 1861 is now complete. For example, we've included certificates that have not even appeared yet on the market, for example, those from the Republic of Genoa. Many new certificates were added in the new issue. We increased the number of pages from 558 to 736. Last but not least: for the collectors it is important that they know new valuations of their bonds.
Nuovo Monte non vacabile, a loan for 4 luoghi of 100 Scudi, 1700, illustrated with two vignettes of Jesus and the coat of arms of the Medici in the middle.
Q: Alex, the book also covers scripophily from the Italian pre-unification states. I was surprised to see that the chapter for Granducato di Toscana, counting 74 pages with securities from 1591-1860, is the biggest part. Why is that?
A: Under the dynasty of the House of Medici (1494-1737) the Grand Duchy of Tuscany became a wealthy state. Their bank, the Medici bank, was the most important financial institution in Europe. The Medici's introduced a system of irredeemable loans with strong written rules. For each loan the statutes were published in a form of a booklet called "provvisione" and each loan was guaranteed by income from taxes. For example, at the front page of the "Nuovo Monte del Sale", page 40 in the catalogue, its guaranty is included in the name of the loan sale which means by taxes on salt.
Each loan was divided into certificates called luoghi with a unit value of 100 Scudi. A fraction of one luogo, not less than one-quarter, was offered in order to facilitate purchase by the less well-of. Once the bonds were placed, a new booklet was printed with the names of the holders and the number of certificates purchased. Printed on vellum the luoghi represent the origin of issues of state bonds.
The Monte di Pietà, founded in the 15th century, was the first church-run lending institution. It became a model for many charity institutions, called "Monte's" which obtained their funds by means of bonds called "Luoghi di Monte". These organisations evolved into banks and lending institutions. The bonds were registered, and guaranteed the investor a type of annuity. Some of these securities were transferable and redeemable but most were not until the death of the creditor. In scripophily the term Monte can refer to the bond or to the issuer. This Monte Pubblico, a 4% 1000 Lire annuity bond from the Duchy of Milan, dates from 1770.
Q: When Italy becomes a kingdom, I see that the securities get more standardized in terms of layout, text, border and vignette design. What were the main printers of the Italian state bonds?
A: Bonds issued before Italy's unification have no indication of the printer. After 1861 a government printing office was established. On all state certificates there is a small indication of this printer: Officina Governativa delle Carte Valori Torino. Since 1928 its name changed to Istituto Poligrafico dello Stato – Officina Carte Valori.
Q: Were there particular artists and designers involved in the production of state bonds?
A: During the Kingdom of Italy (1861-1946) the portraits of the Kings were designed by employees of the printing office, but only Lodovico Bigola became famous at the national level. Many treasury bonds issued after 1958, display parts of famous works from artists like Antonello da Messina, Tiepolo, Leonardo da Vinci, Raffaello and even Rubens.
With the unification of Italy, the government set up the Gran Libro – 'Great Ledger of the public debt of the Kingdom of Italy' – in which all debts of pre-unitary states were collected. This 3% bond from 1871 depicts Victor Emmanuel II (1820-1878), King of Sardinia from 1849 until 17 March 1861 when he became King of Italy. The portrait was designed by artist Lodovico Bigola, designer and engraver of Italian state bonds and stamps.
Q: Alex, the catalogue also features Austro-Hungarian loans from the period 1868-1918. Can you tell us why these are included in your book?
A: In that chapter's preliminary notes you will read that after WWI citizens who were resident in zones occupied by Italy, and accepted Italian citizenship, could exchange their Austrian and Hungarian State bonds for the Italian 5% Consolidated Loan. To prove this on the exchanged certificates you can find different fiscal stamps like those documented on pages 532-533. By the way, the two Corone stamp, page 534, is very rare and its value is about €150. Unfortunately, I've had only few of them.
The red revenue stamp with 'ITALIAN TESORO' annulation stamp, cancelled this 5.5% 7th Austrian war loan from 1917, indicating that it was exchanged for an Italian state bond.
Q: Over the past decade have you seen any trends in collecting Italian government securities?
A: Rare items are available usually at auctions, while the price of commonly seen certificates has dropped down. Since Udo Hielscher's book "Die Florentinischen Monti" was published by Verlag HWPH AG, there is interest especially on bonds issued by different Monti.
Q: What is the item in your catalogue that realized the highest price so far at auction?
A: That was a Monte San Giovanni Battista – page 124 of the catalogue. It sold at €3,500 plus 20% auction fee at our 27th auction in 2012.
Q: Alex, a catalogue like this stands for a lifework, something I have a lot of admiration and respect for. What was for you the most difficult step in producing the catalog? And do you have any tips for potential authors?
A: The catalogue is the result of team work. Sincerely it was not so difficult for me because of the enthusiastic cooperation of collectors specialized in state bonds. A tip for a potential author: just start and create synergies!
5% Regno D'Italia Prestito Redimibile, redeemable loan of the Kingdom of Italy, 1937. Illustrated is Victor Emmanuel III, flanked by two fasces. He ruled Italy from 1900 to 1946, Ethiopia from 1936 to 1941 and Albania from 1939 to 1943. During his reign Italian Fascism rose and perished.
Q: What is your most pleasant anecdote when producing the catalogue?
A: The co-author of the first and second edition of the catalogue was Mario Cecchi, who unfortunately has passed away. At that time he was a well-known certified public accountant in Siena and his office was located in the historical town center, on Piazza del Campo. We finished both editions exactly during the day of the Palio of Siena – the traditional world-famous horse race run since the thirteen century. After we terminated the work we watched the horse racing from his balcony: a great experience, specially seeing the event from the sixth floor and not from the ground!
Q: Alex, did you use any particular sources, books, manuals and the like, for researching Italian securities? Are there stock exchange year-books available for Italy, comparable to Moody's (USA), Saling (Germany) and Van Oss (the Netherlands)?
A: Yes, of course. The catalogue has a bibliography. The Manuale Hoepli "Il Debito Pubblico Italiano" is a kind of a handbook of Italian state bonds. But in my opinion the most important and interesting book, especially for the pre-unification period, is professor's Felloni "Gli investimenti finanziari genovesi in Europa tra il Seicento e la Restaurazione". Prof. Giuseppe Felloni, a professor emeritus of the University of Genoa, having access to the archive of the Banco di San Giorgio, could publish interesting statistics, for example, on the investments in different Monti bonds of the Grand Duchy of Tuscany by the Banco di San Giorgio and the Papal State and on investments of many European rulers in the Banco di San Giorgio.
Yearly income bond from the Papal States, issued in 1832. Usually, the emblem of the Pope shows a tiara, but, as in this case when the certificate was printed, the version with an umbrella is put in place after the death or a resignation of a pope.
Q: Do you collect yourself?
A: Yes, since many years I collect State bonds. A collection definitely helps to organize a catalogue.
Q: Dear Alex, now I have to ask you a last but very serious question. Suppose you were convicted for excessive scripophily and exiled to a deserted island. What is your most favorite Italian government security that you would take with you?
A: I love to visit islands, but believe me, on a deserted island instead of a bond I'd prefer a survival kit!
Q: Alex, I want to thank you for this interview and wish you a lot of success with the book.
This article appeared on Franky's Scripophily BlogSpot. We republish it courtesy of the author. If you are interested in scripophily, that is in historical shares and bonds, don't miss his blog!
This link takes you to the publisher's website (Italian only).
This video explains how state bonds work.