[bsa_pro_ad_space id=4]
June 4, 2015 – On January 13, 1915 at 7:53 a.m. a terrible earthquake struck Marsica and Avezzano, its most densely populated town, was razed to the ground.
Photograph of the ruins of Via Napoli, Avezzano after the earthquake of 1915. Source: Wikipedia.
As to the extent of the earthquake-stricken area, as well as a number of victims, wounded, homeless and residential areas involved, this tragic natural disaster doubtless represents one of the most violent and catastrophic seismic events in Italian history.
The Italian mint has issued a 5 euro coin to commemorate this tragic calamity: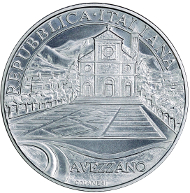 Italy / 2015 / 5 euro / Silver .925 / 18 g / 32 mm / Designer: Maria Grazia Colaneri / Mintage: 5,000.
On the obverse of the coin you see the Church of San Bartolomeo in Piazza del Risorgimento in Avezzano, rebuilt after the severe earthquake in 1915; in exergue is written "AVEZZANO" and the name of the designer "COLANERI".
On the reverse is a vintage view of the Marsica with the Fucino Lake and the town of Avezzano depicted; in the centre you see remains of the Church of San Bartolomeo destroyed by the earthquake of 1915; below, this image is bordered by a seismogram and the record of seismic waves; on the left there is the value "5 EURO" and above, on the right, the letter "R" identifying the Mint of Rome; below is written "1915 2015", i.e. the year of the anniversary and that of the coin's issue respectively.
To get to website of the Italian Mint please click here.
More information about the earthquake you may read here.
Heartbreaking pictures of Avezzano before and after the Earthquake you will find on youtube.