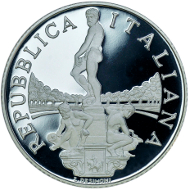 [bsa_pro_ad_space id=4]
August 13, 2015 – The Italian "Historical Villas and Gardens" Series has a new representative: featuring the Boboli Gardens located at the heart of Florence, the 5 euro coin celebrates one of the most important works of Italian garden art.
Italy / 2015 / 5 Euros / Silver .925 / 18 g / 32 mm / Designer: Luciana De Simoni / Mintage: 5,000.
The obverse of the coin depicts the Fountain of the Ocean by Giambologna (1529-1608) located on a small island in the Boboli Gardens in Florence, with the amphitheater in the background. At the base of the sculpture, the name of the designer is stated, L. DE SIMONI, as well as the issuing state, REPUBBLICA ITALIANA. The reverse shows a detail from the sculptural group 'Paris and Helen' by Vincenzo de' Rossi, designed by Bernardo Buontalenti and located in the Grotta Grande of the Boboli Gardens. In the background, there is an interpretation of the frescoes decorating the grotto. Further elements are the inscription FIRENZE above, 2015 as the year of issue on the left and the face value EURO 5 on the right. Below, there is an arch-shaped inscription GIARDINO DI BOBOLI and, among the vine shoots on the right, the letter R identifying the Mint of Rome.
Pitti Palace and Boboli Gardens, lunette by Giusto van Utens (c. 1599), Museo di Firenze com'era, Florence.
The Boboli Gardens are set in the heart of Florence, behind Palazzo Pitti, the prestigious residence of the Medici, Lorraine and Savoy families. Designed by distinguished architects between the 15th and the 16th century, the Boboli Gardens represent one the most important examples of Italian garden art, as well as an open-air museum, both for its architectural-urban setting with grottos, wonderful fountains, charming paths, and for its many ancient and Renaissance sculptures.
If you want to learn more about the Official Italian State Mint please click here.
The Mint presents the newly released coin on this site.
Take a virtual tour around the Boboli Garden by clicking here.
And this is the official website of the Boboli Gardens.