[bsa_pro_ad_space id=4]
August 18, 2016 – The Italian "Historical Villas and Gardens" series has been enriched by another release. Celebrating the most important works of Italian garden art, the 5 euro coin features Villa Cicogna Mozzoni in Bisuschio, Varese Province.
Italy / 5 Euros / Silver .925 / 18 g / 32 mm / Designer: Uliana Pernazza / Mintage: 4,000.
The obverse depicts the courtyard of honour of 16th-century Villa Cicogna Mozzoni at Bisuschio, province of Varese, open onto an Italian garden. Above, in two lines "REPUBBLICA" / "ITALIANA" and below, on the right, the name of the designer "U. PERNAZZA".
The reverse features Villa Cicogna Mozzoni's spectacular double flight water stairs of 156 steps from the lion's fountain to the nymphaeum standing on top of a hill maintained as a park. On the background a detail from Renaissance frescoes featuring wild beasts, and in the field "2016" and "R", identifying the Mint of Rome. Around, above, "VILLA CICOGNA MOZZONI BISVSCHIO", and, in two lines, "5" and "EVRO" in exergue.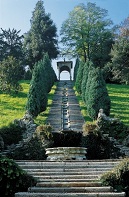 Villa Cicogna's water stairs. Photo: Francesco Cicogna Mozzoni / https://creativecommons.org/licenses/by-sa/3.0/
Villa Cicogna Mozzoni at Bisuschio superbly embodies the magnificent Renaissance architecture. Its extraordinary 16th-century double flight water stairs with a double row of cypress trees as well as its wonderful gardens, modelled after the Medici family's and papal villas with their statues and fountains, make Villa Cicogna Mozzoni one of the most famous aristocratic villas in Lombardy.
If you want to learn more about the Official Italian State Mint, please click here.
The Mint presents the newly released coin on this site.
And this is the official website of Villa Cicogna Mozzoni.