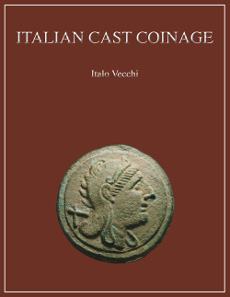 [bsa_pro_ad_space id=4]
February 20, 2014 – In 1979, Italo Vecchi, along with Bradley Thurlow, published 'Italian Cast Coinage'. This book was a catalog of all of the then-known types of cast coinage used in Rome and central Italy between the seventh to third centuries BC. In the three-and-a-half decades since its publication, a number of specialized studies have appeared which have revised our knowledge of this coinage, particularly regarding their minting authorities. As a result, Italo Vecchi has produced a new updated edition of 'Italian Cast Coinage'.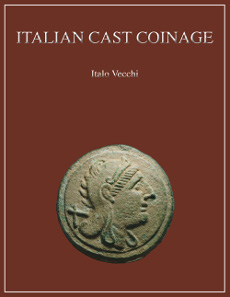 Italo Vecchi, Italian Cast Coinage. CNG, 2013. 84 p. and 90 plates illustrating 373 coins and 14 related items. Hardbound. (RR). $90.
Listing 327 coin types – from the aes rude and currency bars of early 1st millennium Italy to the final issues during the Second Punic War – many of which are previously unpublished, 'Italian Cast Coinage' also includes an account of the cast coinages of Rome, Etruria, Umbria, Northeast and Central Italy, Lucania, and Apulia. Arranged overall by geographical area, the mints within each area are then listed alphabetically. Details of the historical or geographical background, an examination of the weight standards and chronology, and three maps of the area are included also. In addition, there are 90 plates illustrating 373 coins and 14 related items. The book is fully indexed. Soon to become the new standard reference for the cast coinage of Italy.
This book will be a useful inclusion into the library of any scholar, numismatist, or collector of coinage of Central Italy and the early Roman Republic.
You can order the book directly from CNG.