[bsa_pro_ad_space id=4]
August 22, 2013 – Often called the 'Jewish Olympics', the Maccabiah is the world's largest Jewish sports event which takes place in Israel every 4 years. Since its inception, the Maccabiah has given an opportunity for Jewish athletes from all over the globe to meet in Israel. With each successive Games, the numbers of participating athletes and levels of sports achievement rise, and more and more tourists visit Israel for the Games. Many athletes make Aliya.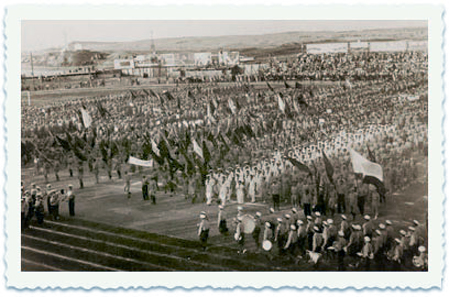 During the second Maccabiah Games in 1935 about 400 athletes participates. Source: Israeli National Archive.
Nearly 9,000 Jewish athletes from 72 countries will participate in the 19th Maccabiah.
The 19th Maccabiah Torch was lit at the end of December 2012 by Jerusalem Mayor Nir Barkat at the Tombs of the Maccabees in Ancient Modi'in. It travelled the length and breadth of Israel until the great moment when it entered Teddy Stadium in Jerusalem on the evening of July 18 during the 19th Maccabiah Opening Ceremony. 32,000 spectators attend this outstanding event, including Israel's President, Prime Minister and numerous other dignitaries from Israel and abroad.
The gold version of the Maccabiah Games State Medal may be struck by order.
Designed by David Harel, the 19th Maccabiah Games State Medal bears the Israel State Emblem and stylized Maccabiah Torch with a surround of Magen David-shaped stars like those in the 19th Maccabiah logo. The reverse depicts a running athlete, the stars and the quotation from Mishna Avot 5, 23: 'Light as an eagle, fleet as a hart'. The medal has been struck in bronze 50mm, in a limited mintage of 3,600 and in sterling silver with a 39mm diameter, in a limited mintage of 360. ICMC may also strike a gold version, by order, in a limited mintage of 100.
For all sports fans and lovers of Israel, this State Medal will be an historic souvenir of an exciting and unforgettable event, the 19th Maccabiah.
For more information on these medals please visit the website of the Israel Coin and Medals Corp.
Here you can listen to the Hallelujah of this year's Opening Ceremony.
And this is the official website of the Maccabiah 2013.