[bsa_pro_ad_space id=4]
December 8, 2011 – "… behold, there appeared a chariot of fire, and horses of fire, which parted them both asunder; and Elijah went up by a whirlwind into heaven." (Kings II, 2:10-11).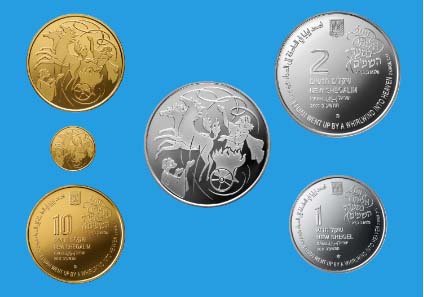 NIS 10 – .917 Gold 22k, Proof – 30mm – 16.96 g – Mintmark: "Mem" – Mintage: 555. // NIS 1 – .999 Gold, Proof – 13.92 mm – 1.244 g – Mintmark: "Mem" – Mintage: 5,000. // NIS 2 – .925 Silver, Proof – 38.7 mm – 28.8 g – Mintmark: "Mem" – Mintage: 2,800. // NIS 1 – .925 Silver, Proof-like – 30 mm – 14.4 g – Mintmark: Star of David – Mintage: 1,800.
These words, from one of the most famous Biblical scenes, have been an inspiration for Jewish and Christian artists throughout the ages. As Kings I and II tell it, Elijah was weary of his persistent and unsuccessful efforts to correct the ways of the people. He understood that his role as a prophet would soon end; that he would depart this world, and that his disciple Elisha would take over his mission.
Elisha refused to accept that his beloved master was to leave him and the moving parting between the two, as they walked and talked together, is an integral component of the dramatic scene described in the Bible. As Elisha saw Elijah carried off, he cried "My father, my father … And he saw him no more and he took hold of his own clothes, and rent them in two pieces. He took up also the mantle of Elijah that fell from him …" (Kings II, 2:12-13). Elijah, it is said, had not died, but had been taken up to heaven, to reappear as a forerunner of the Messiah to come.
Gustave Doré (1832-1883), Elijah Ascends to Heaven in a Chariot of Fire (Kings II, 2:1-15), 1866. Doré's English Bible. Source: Wikipedia.
The art world knows well the many depictions of Elijah's ascendance – on canvas, woodcuts, mosaics, and stained glass. With these new legal tender coins from Israel, precious metal joins the list. The artist Yaacov Enyedi created a dramatic rendering of the biblical scene, which was then engraved by Tidhar Dagan.
The obverse bears the coin's face value, "Israel" in English, Hebrew and Arabic, the dates 2011/5722, the biblical inscription in English and Arabic around the border, and at the upper right, in Hebrew in artistic letters resembling flames within the whirlwind. The state emblem is at top center. The reverse shows Elijah going up to heaven in the chariot of fire drawn by horses of fire. Below left is Elisha, appearing shocked by the sight of Elijah's departure.
There are four variants (two gold and two silver) of the coin available: One of the gold coins is in the popular "smallest gold coins of the world" category, a 1/25 ounce .999 pure gold 1 New Sheqel measuring 13.92 mm. The three others are the traditional .917 gold (22 kt) 10 New Sheqel and sterling silver 2 and 1 New Sheqels. Sets of all three coins and of the of two silver coins are also being offered.
For more information on all the coin and medal issues of Israel or to order online, please click here.