[bsa_pro_ad_space id=4]
June 26, 2014 – One of the most magnificent edifices on the Jerusalem landscape, the Hurva Synagogue in the Jewish Quarter of the Old City of Jerusalem is visited by tourists from all over the world. Its dome overlooks a splendid panoramic view of Jerusalem while its dramatic story is linked to the turbulent history of the people of Israel in the Land of Israel, over the past 300 years.
Israel/ NIS 20/ 1oz/ Gold .9999/ 32 mm/ Design: Reverse Yaacov Enyedi, Obverse: Meir Eshel / Mintage: 3,600.
Early in the 18th century, a group of European immigrants led by Rabbi Yehuda Hasid purchased the land with the intention of building a Synagogue in Jerusalem. After the Rabbi's death, the building remained unfinished and on October 27, 1721, it was burned down by rioting Arabs. From that time, it became known as the Hurva (Hebrew for "Ruin") of Rabbi Yehuda HaHasid.
Almost 100 years after it was destroyed, followers of the Gaon of Vilna (famous Rabbi of the 18th century) managed to obtain a license from the Turkish authorities in Kushta, annulling previous debts and permitting the rebuilding of the synagogue, which was inaugurated in 1864. The Synagogue became the center of Jewish spiritual life in the Land of Israel and the center of life in the Jewish Quarter of the Old City of Jerusalem.
Tragically, the beautiful building was to be destroyed once again in 1948 by the Jordanian Legion and all that remained was the foundation and some columns.
After the Six Day War in 1967, the ruins of the Hurva became an archeological site and the famous arch of the Synagogue that had been rebuilt, became a prominent symbol of renewed Jewish settlement in the Jewish Quarter of the Old City.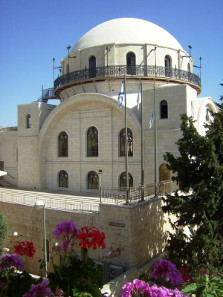 Rebuilt synagogue in 2010. Source: Chesdovi/ http://creativecommons.org/licenses/by-sa/3.0/deed.en.
In 2002, the Government of Israel announced a decision to rebuild the Hurva and the rebuilt Synagogue was completed in 2010. The impressive "Hurva Synagogue" is pictured on the coin.
Coin description
The obverse shows the Israel State Emblem, "Israel" in English, Hebrew and Arabic, a roaring lion taken from an ancient 8th century BCE seal found in Megiddo, that belonged to Shema, servant of King Jeroboam II.
The coin's reverse depicts a view of the Hurva Synagogue. In the upper border is the word "Jerusalem" in English, Hebrew and Arabic and to the right, the Face Value, Mint Year and Star of David Mint Mark.
For further information and to order, visit http://www.israelmint.com/.
You can read about the first bullion coin in this series in this CoinsWeekly article.