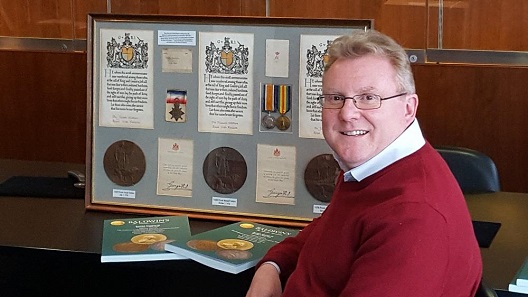 [bsa_pro_ad_space id=4]
June 30, 2016 – A H Baldwin & Sons Ltd are proud and delighted to welcome the newest member of their specialist team, the renowned medallist and curator Mark Smith will be handling Baldwin's Medals and Orders Department.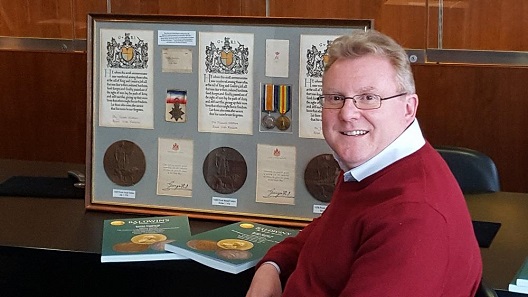 Mark Smith, who will be handling Baldwin's Medals and Orders Department.
A familiar face for many enthusiasts around the UK, Mark can often be seen on the BBC's Antique Roadshow, where he is one of the Arms and Militaria specialists.
Although relatively new in his role at Baldwin's, Mark has been collecting medals and orders for more than 47 years, and is widely regarded as the foremost medals specialist in the country, with a comprehensive understanding of the incredible stories that lie beneath the aesthetics of such wonderfully engaging and historic collectables.
As well as appearing on Baldwin's television screens and meticulously working his way through the Medals' room in the Baldwin's vault, Mark is also the curator of The Royal Artillery Museum in Woolwich, and holds a Master's Degree in Museum Studies from UCL amongst many other high-profile achievements throughout a glittering career. Mark is also an Associate Member of The Guild of Battlefield Guides, and runs battlefield tours across Europe.
With his unrivalled achievements and qualifications, Mark brings a considerable degree of authority to one of the world's most important numismatic dealers and auction houses, and has fitted in immediately to the team of world-class specialists – not least because of his tales of what he gets up to on the weekly Antiques Roadshow curry night!
Mark is also renowned in Medals and Orders circles for a (we believe) unique collecting quest – for the last few decades he has been endeavouring to acquire WWI Casualty Medals, and is well on the way to his ultimate goal of owning one such medal for every single day of WWI.
A momentous undertaking, we're sure you'll agree. Legend has it that there exists a diary that Mark keeps about his person at all times with the dates of medals collected and those that have thus far proved elusive.
Does such a diary really exist? You'll have to ask him …
To learn more about Mark Smith and Baldwin's go to the firm's website.