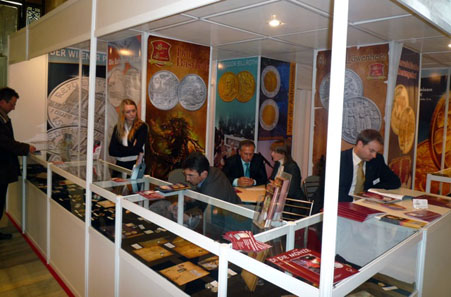 [bsa_pro_ad_space id=4]
July 5, 2012 – From 11th to 13th October 2012 the 8th International Numismatic, Gold & Art Jewellery Exhibition CoinExpo 2012 is going to take place in the Palace of Culture and Science, Warsaw, Poland.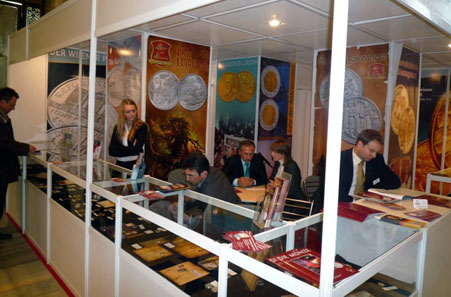 CoinExpo is an international numismatic event that has been organized since 2005 in Palace of Culture and Science in Warsaw, Poland by Warsaw Exhibition Board. Through these years numerous mints, numismatic distributors, jewellery manufacturers and metal investments enterprises from Australia, Austria, Belarus, Canada, China, France, Germany, Hungary, Lichtenstein, Lithuania, the Netherlands, Poland, Slovenia, South Africa, Switzerland and United Kingdom have been exhibiting at the CoinExpo.
Main Sponsor of CoinExpo 2012 is Allgemeine Gold- und Silberscheideanstalt AG – one of the leading European producer of coin blanks and medals.
CoinExpo consists of:
a numismatic fair,
promotion of precious metals investments (gold, silver)
the Warsaw Collectors' Market,
conferences, debates with experts, presentations and discussions with numismatists and investors,
valuations and auctions.
This year the main part of the exhibition will consist of mint and collection products: collectors coins, bullions and commemorative coins, numismatics, ducats, medals, awards, statuettes, chips, seals, insignia, securities, collectors accessories as well as investment products: investment gold and silver, precious metals, ore, gems, semi-precious stones, minerals, which have become very popular as one of the safest investments option in the recent turbulent years.
Moreover, the profile of CoinExpo 2012 has been expanded after considering the growing market and increasing opportunities of product application presented at previous exhibitions in other, artistic and daily usage forms.
This year at the CoinExpo 2012 art jewellery products such as: jewellery, gems, pendants, gallantry accessories, engraving, jewellery services and accessories will be exhibited.
The 5th Warsaw Collector's Market will take place on Friday and Saturday 12-13 Oct 2012. At the Market it will be possible to purchase, sell, exchange or valuate coins, banknotes, collections of postcards, telephone cards, postage stamps, commemorative coins, medals, tokens etc. Private collectors as well as enthusiasts are very welcome at the Market.
CoinExpo and Warsaw Collectors' Market is visited especially by: professional numismatists, private collectors, members of professional associations, investors, jewellers, individual clients and people who search for alternative investment forms, auction houses, antique shops, banks, devotional gift shops, companies with loyalty programmes, local governments and municipalities, media representatives, all interested in investing in precious metals and in the exposition.
For more information about CoinExpo 2012 please visit its website.
You can find here the Warsaw Collectors' Market.
If you are interested in participating in Coin Expo 2012, please write an email.