[bsa_pro_ad_space id=4]
March 15, 2018 – Bernard Harold Ian Halley Stewart died on 3 March 2018. He is considered one of the most profound experts of British numismatics. We mourn the loss of a distinguished collector and researcher who also shaped his country's (monetary) policy.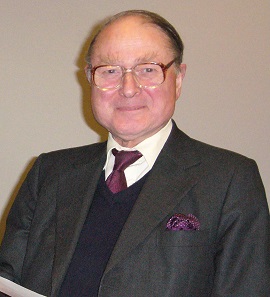 Bernard Harold Ian Halley Stewart (1935-2018).
On his last book, he simply used the name Lord Stewartby – the researcher, collector and politician Bernard Harold Ian Halley Stewart, Baron Stewartby, who was born on 10 August 1935. He already adored coins as a child. He had found his first collector's item in the early 40s at a grocer's. It was a copper coin from the time of William III and Queen Mary II's joint rule, between 1689 and 1694. This find was the initial spark. From then on he would dedicate a large part of his spare time to numismatics. It was already at the age of 20 that Stewart published 'The Scottish Coinage', an important standard work, which was published by Spink. In addition his articles were regularly featured in Numismatic Chronicle. At age 30 he became president of the British Numismatic Society.
When 'The Scottish Coinage' was published, Stewart was receiving training as a reserve officer at the Royal Navy. He completed the training as lieutenant commander. In 1971 he became director of the private bank Brown, Shipley & Co. At the same time he was pursuing a career in politics. In 1974, he was elected into the House of Commons for the Conservative Party where he worked in his special field, economic policy.
When Margaret Thatcher was made Prime Minister, he was asked to join the government. Between 1983 and 1990 he executed different government offices, most of which dealt with economic issues. He served at the Treasury, at the Ministry of Defence and he was minister of state for the Secretary of State for Northern Ireland. Among other things, he was also temporarily responsible for the Royal Mint and the British minting policy. After John Major's takeover, Stewart was no longer part of the government and thus shifted his focus to the private sector, where he established his reputation as a finance specialist.
In 1992, Ian Stewart was appointed Knight of the Order of Saint John, which earned him the title 'Sir'. On 20 July 1992, after he left the House of Commons, he was also awarded the aristocratic title Baron Stewartby of Portmoak in the District of Perth and Kinross and admitted to the House of Lords, where he sat until 2015.
Lord Stewartby had a passion for numismatics for his entire life. He was chairman of the Committee of the British Academy for the Sylloge of the Coins of the British Isles. The Fitzwilliam Museum honoured his commitment with the position of Honorary Keeper of Medieval Coins. He also received medals of honour from the Royal Numismatic Society and the British Numismatic Society.
Lord Stewartby was not just a scholar but also a dedicated coin collector. In 2017, the Hunter Museum in Glasgow was delighted to receive around 6,000 Scottish coins from him. And that is just one part of the collection! In June of 2007, thieves had stolen around 1,000 coins of his collection. The case was even featured in the British television show 'Crimewatch'. But even though there was a 50,000 pounds reward, the coins have not reappeared until this day. His English coins were auctioned by Spink in five auctions in 2016.
We have lost a true coin enthusiast with Lord Stewartby's passing. He is survived by his wife and his three children. We are in mourning for a man, who saw numismatics as one of life's pleasures.
If you are interested in Lord Stewartby's numismatic activities, please read this obituary.
The Hunterian has reported on his donation to the coin cabinet of the University of Glasgow.
The theft of his coin collection was of course featured in CoinsWeekly.
Spink has uploaded several films on the Stewartby collection of English coins onto Youtube:
1.) Anglo-Saxons and Normans
2.) Henry II to Edward II
3.) Gold coins
4.) Edward III to Richard III
5.) Tudor and Stuart