[bsa_pro_ad_space id=4]
July 27, 2017 – Currency News sponsors the IACA Awards, which were presented at the Currency Conference in Kuala Lumpur on May 17, 2017. Introduced in 2007, the awards promote and recognise excellence in banknote and coin production, processing, management and distribution. In keeping with IACA's mission of making cash the best that it can be, any organisation or individual involved in the currency industry, as well as issuing authorities, commercial banks and enforcement agencies can be eligible for an award.
Nopporn Pramojaney, Retired Assistant Governor, Banknote Management Group of the Bank of Thailand.
This year, a Lifetime Achievement Award was also made to Nopporn Pramojaney, Retired Assistant Governor, Banknote Management Group of the Bank of Thailand.
In addition to the categories voted on by IACA delegates, an award was also presented for the best new house note, voted for by central bank delegates throughout the Currency Conference.
The award winning notes and projects are:
Switzerland, New 50 Swiss Franc.
Best New Banknote or Series: Swiss National Bank, New 50 Swiss Franc
The new note is the first of the new 9th Swiss series to go into circulation, shifting from traditional portraits to depicting typical characteristics of the country. The main feature of the note is a hand, gently holding a dandelion head blown by the wind.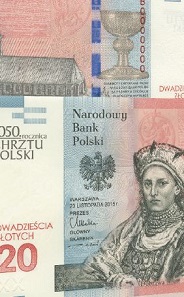 Poland, Commemorative 20 Zloty.
Best New Commemorative or Limited Circulation Banknote: National Bank of Poland, Commemorative 20 Zloty
The note celebrates the 1050th anniversary of the Baptism of Poland, depicting the portraits of Prince Mieszko I and his Bohemian wife Dobrawa, with the Gniezno Cathedral featured on the reverse.
Award-winning campaign to select a Canadian woman to appear on a new banknote.
Best Communications Award: Bank of Canada, Is she #bankNoteable?
Launched in August 2017, the Bank of Canada ran a successful 6-week public engagement campaign to select a Canadian woman to appear on their next series of banknotes.
The new 50 euros bill of the ECB.
European Central Bank, Launching the New Europa Series
The ECB have run a variety of public communications campaigns for the launches of the new €20 and €50 notes, including direct marketing, the Partnership Programme, the Euro Run initiative in schools and the new €50 banknote film.
Recycled notes.
Best Banknote Processing Innovation: CCL Secure, Guardian® Global Recycling Program
The program establishes a network of regional recycling facilities in major geographical regions throughout the world, ensuring that smaller countries or those where there is no suitable recycler available can still dispose of old notes sustainably.
Louisenthal, "Water" House Note.
Best New House Note: Louisenthal, "Water" House Note
Voted on by delegates at the conference, the Louisenthal house note features RollingStar® LEAD foil and RollingStar® registered thread. The striking animated stripe provides optimal design freedom for strong visual appeal and authentication.
For more information on the awards of 2017 and the previous years, please visit the Currency News webpage.
Further information can also be obtained from the IACA website.