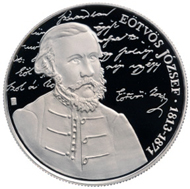 [bsa_pro_ad_space id=4]
October 17, 2013 – On 11th September 2013, the Central Bank of Hungary issued a new commemorative coin, honoring the 200th anniversary of the birth of József Eötvös.
Hungary / 3,000 HUF / Ag .925 / 12.5 g / 30 mm / Designer: Géza Kertész / Mintage: 2,000 (BU), 3,000 (PP).
Known as the first great master of the Hungarian realist novel, Baron József Eötvös (born in Buda, 3rd September 1813 – died in Pest, 2nd February 1871) was a writer, poet, lawyer, reform politician and statesman. His life and work were devoted to peacefully promoting the progress of the Hungarian nation.
Portrait of József Eötvös by Miklós Barabás, 1845. Source: Wikipedia.
József Eötvös was the son of Baron Ignác Eötvös and Lady Anna Lilien. He was schooled in Buda and went on to study philosophy and history at the university in Pest. One of his instructors, József Pruzsinszky, had a strong influence on him, awakening his interest in politics and philosophy. Eötvös was also a close friend of the lawyer and history writer László Szalay, who strengthened his predilection for literature.
Following university, he briefly worked as a government official, but then left the country after a failed romance and travelled around Europe. Upon his return, he wrote his first major novel, The Carthusians. In 1845, he published The Village Notary, which achieved international success and was the first work of Hungarian literature to receive positive critical acclaim abroad on the basis of the translations. In 1847, his work Hungary in 1514 was published, which focused on the peasant revolt led by Dózsa. Along with his prose works, he also published numerous poems, theatrical pieces and philosophical writings.
He was elected as a member of the literary group Kisfaludy Society on 25 November 1838 and later became its president on 24 May 1860. He became a corresponding member of the Hungarian Academy of Sciences in 1835, was elected as a regular member in 1839 and was later appointed President in 1866.
He married his wife, Ágnes Rosty, in 1842. To this happy marriage were born three daughters and two sons, one of whom went on to become the famous physicist, Loránd Eötvös.
As a politician, he took a centrist position, between Széchenyi and Kossuth. In 1837, he was appointed council judge for the district of Eperjes and participated in the National Diet of 1839-40 as a member of the higher council. During the Revolution of 1848, he held a post in one of the first Hungarian government ministries, where he was responsible for public worship and instruction. In 1867, he was appointed Minister of Public Worship and Education in the Andrássy cabinet.
József Eötvös died in 1871 in Pest. His remains are interred in the family vault in Ercsi. "He remains without detractors, his greatness acknowledged by all: he is remembered as a shining example of the nation's best and brightest," wrote Zoltán Ferenczi, in the first book on Eötvös published in 1884.
If you want to learn more about the Hungarian Mint, please click here.
If you possess some knowledge of the Hungarian language, you can learn much more about Eötvös here.
And here you find information on the József Eötvös Collegium.