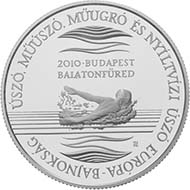 [bsa_pro_ad_space id=4]
July 30, 2010 – On August 4, 2010 Hungary will issue a new commemorative coin on the occasion of the 30th European Championships in Swimming, Diving, Synchronised Swimming and Open Water.
Commemorative Coin "European Swimming, Diving, Synchro & Open Water Championships – Budapest, Balatonfured 2010" – Fineness: Ag .925; Face value: 5.000 HUF; diameter: 38,61 mm; Weight: 31,46 g; Mintage: 4.000 in BU, 6.000 in Proof; Designer: Attila Ronay.
In honor of the European Swimming Championships in Hungary and the outstanding performance of Hungarian swimmers, the Magyar Nemzeti Bank is issuing a silver collector coin. The coin was designed by Attila Rónay, who drew on the inspiration of the waves made by the swimmers and the ropes marking the lanes in the pool to create a harmonious front and back side. Light falling on the special design on the back of the coin creates the impression of waves rolling on the water when the coin is moved.
The European Swimming Championships for the classic, 50-metre "long course" pool is generally organised every two years by the European Swimming Federation (Ligue Européenne de Natation, LEN), which functions as the governing body for 50 European national swimming federations. LEN was founded in 1926 in Budapest and its administrative headquarters are located in Rome. Hungary is represented in LEN by the Hungarian Swimming Federation. Along with swimming, the Federation is also responsible for the supervision of water polo, diving, synchronised swimming and long distance or open water swimming. Until 1999, competitions in all of these sports were held within the framework of the European Swimming Championships, while since then a separate European Championship has been organised for water polo.
For more information on this year's European Swimming Championships click here.
The first European Championships were held on August 18, 1926 in Budapest, which again hosted the Championships in 1958 and 2006, meaning that 2010 will be the fourth occasion that Budapest is the venue for this prestigious event. The races will be held at the Margitsziget, in the Alfréd Hajós Sport Swimming Pool, with the open water events taking place in Balatonfüred. The first record was set at the 2010 European Championships long before the opening ceremony, as an unprecedented 44 European nations registered their athletes for the four sports. For the first time in the history of these Championships, the "four starter" rule will apply, meaning that one nation can start four athletes for each discipline, and this also means that the 10-track system will be used for the first time for this competition.
In order to find out more about Hungarian commemorative coins, please click here.