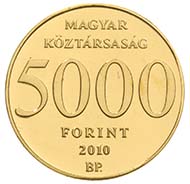 [bsa_pro_ad_space id=4]
November 11th, 2010 – The Magyar Nemzeti Bank (Central bank of Hungary) will issue the last two new collector coins of 2010 on November 6th. The topic is the 200th anniversary of Ferenc Erkel, the composer of the Hungarian national anthem.
In celebration of the 200th birthday of Ferenc Erkel, the Magyar Nemzeti Bank is issuing gold and silver collector coins.
Fineness: Au .999 – Face value: 5.000 HUF – Diameter: 11 mm –
Weight: 0.5 g – Mintage: 10.000 pcs Proof-like – Designer: László Szlávics Jr.
The gold coin is a truly unique issue, thanks to its size: the new coin, which is intended to call the attention of coin collectors around the world to the composer of Hungary's national anthem, is the first Hungarian coin issue to be included in the international collector's programme as the "smallest gold coin of the world".
Fineness: Ag .925 – Face value: 5.000 HUF – Diameter: 38.61 mm – Weight: 31.46 g – Mintage: 5.000 pcs Proof – Designer: György Kiss.
The silver coin features the house in Gyula where Ferenc Erkel was born, at Apor tér 7, which now functions as a museum dedicated to this great figure of Hungarian music.
Ferenc Erkel, painting by Györgyi (Giergl) Alajos (1821-1863) / Wikipedia.
Ferenc Erkel (b. Gyula, 7 November 1810 – d. Budapest, 15 June 1893)
Ferenc Erkel, one of the outstanding figures of Hungarian music, was a renowned composer whose works included the score to Kölcsey's Himnusz, Hungary's national anthem, and the operas Hunyadi László and Bánk bán. Erkel laid the foundations for Hungarian opera, established the Philharmonic Association, was an ardent supporter of Hungarian folk music movements and finished his career at the apex of Hungarian music as the head of the Hungarian Academy of Music.
Erkel was not just a composer though, as he also played a key role in 19th century Hungarian music as a conductor, pianist and music instructor. Following his studies in Pozsony (present-day Bratislava), he was a professional pianist in Kolozsvár (now Cluj in Romania), before returning to work and live in Budapest from 1834. His first opera, Bátori Mária, was completed in 1840. In 1844, his music was selected from 14 pieces submitted as possible scores for Kölcsey's Himnusz, as requested by András Bartay, director of Hungary's National Theatre. Highlights of his long and illustrious career included the debut of the historical opera Hunyadi László in 1844, the founding of the Philharmonic Association in 1853, the premiere of Bánk bán in 1861, his appointment as superintendent of the National Theatre in 1873 and later of the Opera House from 1884, and as director of the Hungarian Academy of Music under the presidency of Ferenc Liszt in 1875, and the celebration of his 50 years as a conductor at the Vigadó Concert Hall in 1888. His works are marked by careful attention to Hungarian national traditions and the combination of motifs from 'verbunkos' music with European melodies; in addition to his opera works, he also composed a wide range of other orchestral, lyrical and piano pieces. Erkel was also a well-known chess player and one of the founders of the Budapest Chess Club in 1864.
If you want to hear the Hungarian National hymn composed by Ferenc Erkel, click here.
If you want to hear more music of Ferenc Erkel, please click here.
You will listen to the "Hunyadi Marsch" performed by Zentrales Orchester der NVA – HQ.
If you want to learn more about the Hungarian Mint, click here.