[bsa_pro_ad_space id=4]
November 12, 2015 – To mark the 150th anniversary of the death of Ignac Semmelweis, the National Bank of Hungary has issued a commemorative coin. As part of the series, "The World's Smallest Gold Coins", a 5,000-forint gold coin and a 2,000-forint copper alloy coin have been struck.
Hungary / 5000 Forint / 2015 / Gold .999 / 0.5 g / 11 mm / Designer: Enikö Szöllössy.
The coin was designed by the sculptress Enikö Szöllössy, with the denomination on the front and a portrait of Ignac Semmelweis on the back.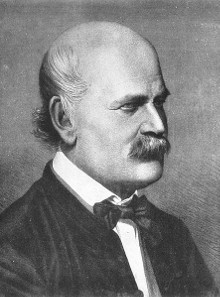 Ignaz Semmelweis 1860. Copper plate engraving by Jenö Doby.
Ignac Fülöp Semmelweis was born to a wealthy family on 1 July 1818, the fifth son of Jozsef Semmelweis, a spice merchant, and Terezia Müller. He finished his schooling at the Budai Kiralyi Egyetemi Katolikus Gimnazium and started studying law at the University of Vienna in 1837, but against his father's wishes – who wanted him to become a military judge – he switched faculties that same year and began studying medicine.
The old Vienna General Hospital, 1784.
After completing his studies in Vienna and Budapest, he received his degree in medicine on 21 May 1844 in Vienna. He trained as an obstetrician that same year and was certified as a surgeon in 1845. In 1846, he became an assistant instructor at the obstetrics department of the Vienna public hospital. In the mid-19th century, doctors were convinced that the deadly illness known as "childbed fever" was a contagious disease. Based on his professional experience and statistical data, Semmelweis recognized that the illness was actually caused by pathogens – the existence of which he could not prove – which were transmitted from doctors performing autopsies, who later examined pregnant mothers without disinfection after doing autopsies. In 1847, he made it a requirement that the doctors, nurses and staff working in the obstetrics department must wash their hands with chloride of lime instead of soap and water, after he observed that the chloride of lime removed the cadaver smell following an autopsy. He required strict hygiene and later ordered that hands had to be disinfected between examining individual patients. The results were seen immediately. With his discovery, he was the forerunner of the theory of surgical antisepsis and essentially created aseptic gynaecological and obstetric practices. His peers were doubtful and jealous and rejected his measures.
Microbial growth on a blood agar plate without any procedure (sector A), after washing hands (sector B), and after disinfecting hands with alcohol (sector C). Photograph: Pöllö / https://creativecommons.org/licenses/by-sa/3.0/deed.en
He returned to Hungary in 1850 and worked as the honorary head of the obstetrics department at the Szent Rokus Hospital from 1851. By royal appointment, he became a professor for theoretical and practical obstetrics at the University of Pest in 1855. He married Mária Wiedenhoffer in 1857 and they had five children. In 1860, he published the book "The Etiology, Concept, and Prophylaxis of Childbed Fever" in German. He stepped down as the head of the obstetrics department in 1861, having reduced the mortality rate to less than 1% in his years of work.
The constant struggle to have his teaching acknowledged was a great burden on him and pictures of him between the ages of 42 to 47 indicate that he was ageing rapidly. On 31 July 1865, his wife took him to the mental hospital in Döbling, Austria for examination. He died there a mere two weeks later on 31 August. The exact cause of his illness is debated. It is most likely that he suffered from tertiary stage syphilis, concluding in progressive paralysis from the early summer of 1865. This would explain his mental illness and death by the autumn of 1865. His death was probably also speeded by the injuries suffered during hospital treatment, which caused ulcers and sepsis. His discoveries were only acknowledged and applied after 1877, through the work of Louis Pasteur and Robert Koch (bacteriology) and Joseph Lister (surgical antisepsis).
Learn more about the Magyar Nemzeti Bank on the official website.
This is the site of the Semmelweis Museum in Budapest.
And here you can visit the site of the Semmelweis University, also in Budapest.