[bsa_pro_ad_space id=4]
August 21, 2014 – The MNB (Magyar Nemzeti Bank) is marking the 200th anniversary of the birth of Miklós Ybl with the issue of a silver collector coin in 2014. The coin's front shows the church in Fót, as interpreted by the sculptress Ildikó Eröss, with a portrait and signature of Ybl on the back. A HUF 2,000 non-ferrous metal coin of the same pattern is also being issued along with the silver version.
One of Ybl's contemporaries expressed his respect as follows: "What is the poet's song? Words, not followed by action. You speak not, but bring stones to speak."
Silver version. Hungary/ 10,000 HUF/ Silver .925/ 24 g/ 37 mm/ Design: ERÖSS Ildikó Mintage: 5,000.
Personal life
Miklós Ybl was born to a wealthy merchant's family on 6 April 1814 in Székesfehérvár. He completed his studies at technical university in 1831. From 1832 he was an apprentice to Mihály Pollack, a famous Classicist architect, and from 1836-1840 he was employed by Henrik Koch, a renowned Classicist architect in Vienna. He went on study trips to Germany and Italy. In November 1841, he founded the company "Architecture Institute" together with Pollack's son, Ágoston. In 1843, he became a "fraternal stonemason master". He was commissioned in 1845 by István Károlyi to renovate the Károlyi castle in Fót and to build a church there to serve as the family's burial chapel. With these works, he established his reputation and also became the house architect of the Károlyi family. The church was completed in 1854 and is widely seen as one of the prime works of Hungarian Romantic architecture. He married Ida Lafite, a teacher born in Graz, in 1851.
Miklós Ybl (1865).
Works
Ybl built castles, churches and other buildings for the famous aristocrats of his age, such as the Zichy, Festetics, Apponyi, Andrássy, Esterházy and Orczy families, but he also drew up plans for institutions and private individuals as well. From 1863 he was a member of the architects' guild. During this period, he shifted to the Neo-renaissance style. He took part in practically every important construction project in the capital: for instance he worked on the MTA building, and some of his other works include the old parliament building in the Bródy Sándor utca (now the Italian Cultural Institute), the Customs House (now the Budapest Corvinus University) and the First National Savings Bank of Pest (Ybl Palace).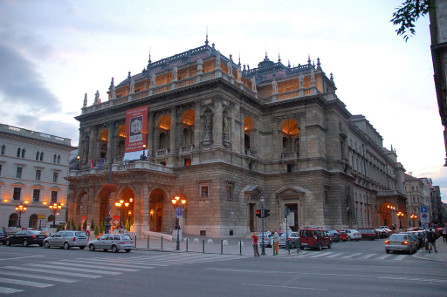 Hungarian State Opera House./ Photo: PDXdj/ http://creativecommons.org/licenses/by-sa/3.0/deed.en.
In 1873, he won the tender for planning the Opera House and was later commissioned to supervise its construction. Its opening was celebrated in 1884. While building the Opera House, he also planned the Castle Kiosk and Bazaar (1874-1882). Following the death of József Hild in 1867, the City Council of Pest commissioned Ybl to continue the construction of St. Stephen's Basilica. After the collapse of the cupola, which had been constructed based on Hild's plans, Ybl prepared new plans and revised Hild's old plans, both in terms of the structural and aesthetic design. Ybl was unable to complete construction of the Basilica due to his death on 21 January 1891. His last large work was the plans for the expansion of the Buda Castle.
Base metal version. Hungary/ 2,000 HUF/ Silver .925/ 23.7 g/ 37 mm/ Design: ERÖSS Ildikó Mintage: 5,000.
Awards and distinctions
He was awarded the Franz Joseph order in 1865 and the Knight's Cross of the Order of Leopold in 1882. From 1882 he was a member of the Public Works Council and a member of the House of Magnates from 1885. The annual Miklós Ybl architectural award was established in his honour in 1953.
You can purchase the coin in the Hungarian Mint's online shop.