[bsa_pro_ad_space id=4]
December 15, 2016 – Marking the 225th anniversary of the birth of István Széchenyi, the Magyar Nemzeti Bank issues a 20,000-forint silver commemorative coin and a 2,000-forint non-ferrous commemorative coin.
Hungary / HUF 20,000 / Silver .925 / 77.76g / 52.5mm / Design: Mihály Fritz / Mintage: 5,000.
The coin was designed by Mihály Fritz. The middle of the front shows the building of the Hungarian Academy of Sciences, with the statue of István Széchenyi by József Engel in the foreground. The main motif on the rear of the coin is a depiction of the profile of István Széchenyi, hands resting in his lap, with a portion of Hungary's first train timetable visible behind him. A steam locomotive can be seen above the timetable. The silver version is the first 20,000-forint coin to appear in the series of commemorative silver coins, and it is also the largest coin in the series.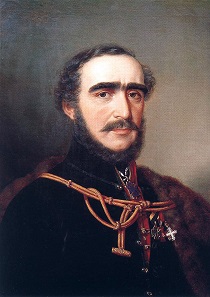 Count István Széchenyi. Painting by Miklós Barabás, 1848.
Count István Széchenyi (b. Vienna, 21 September 1791 – d. Döbling, 8 April 1860) was a leading figure in the political struggles of Hungary's reform era and a key character in the transformation of Hungarian society.
Széchenyi played an instrumental role in the development of Hungary's economy and public life, the country's transportation network and the use of the Hungarian language in science, and he also launched important reforms in Hungarian sports.
Although there was not complete agreement between the two men in political matters, Lajos Kossuth still referred to Széchenyi as the "greatest Hungarian".
More information on these coins is available at the Hungarian Mint Ltd.
This is the website of the Magyar Nemzeti Bank.
At Nagycenk, you can visit the István Széchenyi Memorial Museum.
And a vivid account of the life of István Széchenyi can be found in Stephen Sisa's The Spirit of Hungary.