[bsa_pro_ad_space id=4]
July 14, 2016 – On the occasion of the 5th anniversary of the adoption of the Fundamental Law, as the first written constitution adopted by a democratically elected legislation, on 18 April 2011, the Magyar Nemzeti Bank issues a 10,000-forint silver collector coin and a 2,000-forint non-ferrous version bearing the same image.
Hungary / 10,000 Forint / Ag .925 / 24g / 37mm / Design: László Szlávics Jr. / Mintage: 5,000.
The coin was designed by László Szlávics Jr. and depicts an open book symbolising the commemorative edition of the Fundamental Law of Hungary as the main motif on the front. The reverse of the coin features an interior detail of the Dome Hall of the Hungarian Parliament building and the first line of the National Avowal "God bless the Hungarians!" as the legend.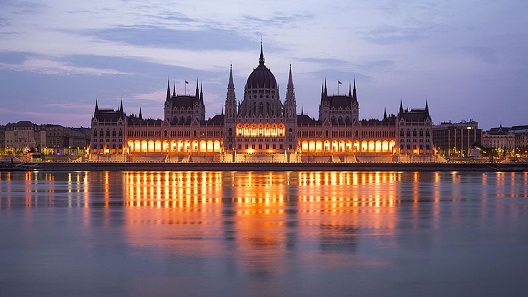 Hungarian Parliament Building, Budapest. Photograph: Andrew Shiva / https://creativecommons.org/licenses/by-sa/4.0/deed.en.
On 18 April 2011, the National Assembly adopted the Fundamental Law, which forms the basis of the legal system in Hungary. The text entered into force on 1 January 2012, after being signed by the President of the Republic of Hungary on 25 April 2011.The Fundamental Law is the first written constitution in the country's history, which has been adopted by a democratically elected legislation. It defines the most important segments of Hungarian social, political and economic life. Its goal is to reinforce the rule of law and democracy, and the commitment to common European values and traditions, to foster economic and intellectual revitalisation, and to protect and preserve the rights of individuals and communities, and the supreme common values of family, order, nation, work, and health.
The text consists of five parts:
Preamble (National Avowal)
Foundation (form of state, regional structure, symbols, holidays, European integration, Hungarians living outside of Hungary, and nationalities living in Hungary)
Freedom and responsibility (basic constitutional rights)
The State
Special legal orders (emergency situations)
The Fundamental Law regulates the legal system of Hungary and the fundamental rights and obligations of its citizens, and establishes the basic rules governing the structure of the State. The provisions of the Fundamental Law shall be interpreted in harmony with its goals, the National Avowal contained therein, and the achievements of Hungary's historical constitution.
For more information on the Hungarian Mint and its products, please click here.
You can download the English translation of the Fundamental Law here.
And here you find the official website of the Hungarian Government.