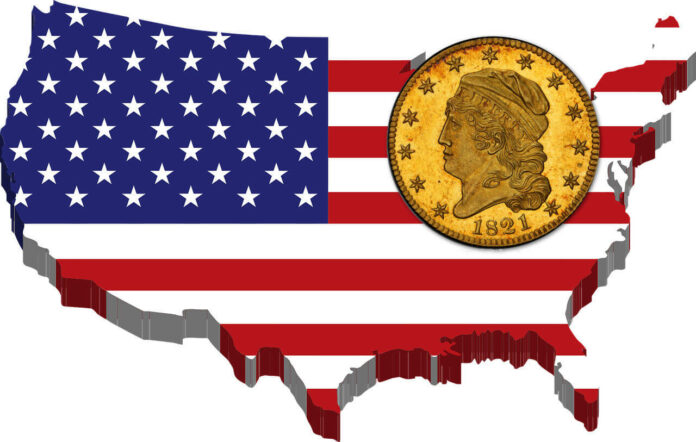 [bsa_pro_ad_space id=4]
The market for rare United States coins enjoyed a banner year in 2022 with many hundreds of price records set for individual coins, according to an analysis by CDN Publishing, publishers of the Greysheet family of numismatic market price guides.
"Continuing the momentum from 2021, we estimate the overall U.S. rare coin market exceeded a record $6 billion in total volume for the year in 2022," said Patrick Ian Perez, CDN Vice President.
"Using data available to us, more than $560 million worth of U.S. rare coins were sold via public auction, marking the third consecutive year this aggregate total has increased. For the first time, 16 individual U.S. coins sold for greater than $1 million, and an additional two numismatically-related items sold for more than $1 million. Thirteen of these seven-figure items were sold by Heritage Auctions," he explained.
The Three Most Valuable U.S. Coins in 2022
The three most valuable U. S. coins to sell at public auction the past year were all greater than $4 million each, with Heritage Auctions selling two and Stack's Bowers Galleries selling one. All three were classic United States gold coins from the 19th to early 20th century.
Heritage Auctions sold more than $347 million in United States rare coins for the year, while four other major auction firms contributed to the remaining total referenced above. Stack's Bowers, the second largest U.S.-based numismatic auction company, hammered down $131 million worth of United States coins, a significant year-over-year increase. Across all categories, they sold $260 million worth of numismatic items in 2022.
Rare United States Paper Money Sold in 2022
Additionally, more than $55 million worth of rare United States paper money was sold at auction in 2022. Of this total, Heritage Auctions sold more than $37 million. The most valuable piece of U.S. currency sold this year realized $750,000, while an additional 24 banknotes sold for greater than $100,000.
Not included in these totals were the record numbers of ancient and world coins sold by U.S.-based auction firms, or U.S. coins sold by foreign-based firms, which also contained a slew of price records.
What Will 2023 Bring For the Coin Market?
"Going into 2023, the market for U.S. coins starts off with a solid foundation, but there are indications of cooling off, as well," said CDN Publisher John Feigenbaum.
"However, it is also clear that the numismatic market has been spared the severe pricing spikes and declines that have befallen other popular collectibles, like sports cards, sneakers, NFTs, including even crypto-based investments."
Heritage Auctions Co-Chairman Jim Halperin stated, "2023 looms as an economic wildcard, with unpredictable and perhaps even more volatile inflation and interest rates than 2022. In such an environment a broad basket of assets, including rare collectibles, could be safer – almost a form of financial insurance against an economic 'black swan,' above and beyond the many joys and psychological benefits of collecting. Heritage will continue to strive to create even more liquidity and transparency in these markets, and to help attract and educate more and more new collectors in the fields we serve."
These sentiments are shared by Stack's Bowers President Brian Kendrella, who stated "2022 was another record year for Stack's Bowers Galleries, as the firm set numerous individual price records and new overall records for several product categories and sale venues. All (of our categories) witnessed significant year-over-year sales increases."
To find further information and all the products, visit the Greysheet website.
We spoke with Greysheet's John Feigenbaum at FUN and in an interview he shares his view on the market of U.S. coins (scroll below!).
There you will also find explanations, why a $3 Gold Dollar 1870 sold for $5.52 million during the FUN by Heritage, and what was so special about the gold medallion sold during the NYINC by CNG that it fetched a record price (for both again, scroll below).
In our record section you can find the Most Expensive: Coins in the World, and the Most Expensive Coins Sold in 2021.