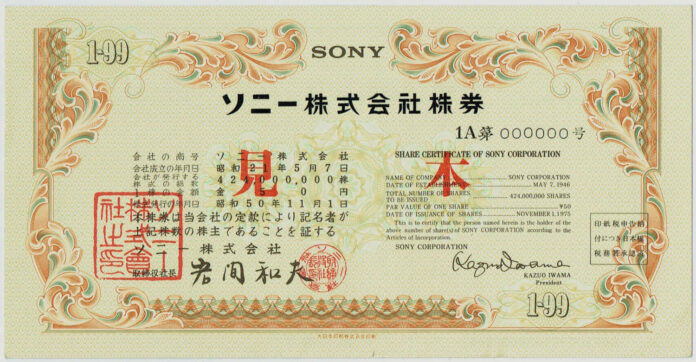 [bsa_pro_ad_space id=4]
In the movie Guardians of the Galaxy, underdog Peter Quill "Star-Lord", portrayed by Chris Pratt, faces the galaxy's worst criminals. Using a Walkman he listens to Rupert Holmes' catchy Escape (Piña Colada) song in order to stay connected with the Earth and the family he lost.
SONY introduced in 1979 the Walkman, a portable cassette player that allowed you to listen to music while on the move with a small headset. The player fit in your hand and you could clip it onto your belt. By the time Sony had stopped production, 30 years later, they had built about 200 million cassette-based Walkmans.
Masaru Ibuka and Akio Morita both served in the Imperial Japanese Navy during WW II. In 1946 they formed Tokyo Tsushin Kogyo (Tokyo Telecommunications Engineering Corporation) which became Sony in 1958.
The company would become world famous with electronic products, such as the portable transistor radio, cassette players, televisions, video recorders, the Discman, digital cameras, Vaio laptop computers, Playstations and humanoid robots. SONY Corporation is now owned by SONY Group Corporation which is, among many other things, one of the largest music companies and film studios today.
Sony's stock was first listed on the Tokyo Stock Exchange in December 1958. It became a part of the Nikkei 225 stock market index. Sony was listed on the NYSE in September 1970 as the first Japanese company to appear on an any American stock exchange.

Collecting Japanese shares is challenging, especially if you don't read the language. Luckily modern ones are bilingual showing the text in both Japanese and English. You can read that the certificate illustrated above mentions a capital of 424,000,000 shares of 50 Yen with date of issuance Nov 1, 1975.
I cannot read Japanese but with the help of a dear collector friend I've learned to recognize some "phrases" on antique bonds and shares from Japan. The older certificates have to be read in a "right to left and top to bottom" direction. Modern certificates print Japanese from left to right, as is the case here. The bold characters in black are ソニー株式会社株券.
This can be split into three parts:
ソニー, SONY;
株式会社, kabushikigaisha, Corporation or "Co Ltd", which is in turn formed by

株式, kabushiki, stock
and 会社, kaisha,company;

株券, kabuken, stock certificate.
Together it says "stock certificate of the SONY Corporation".

In the lower right corner, you see the western facsimile signature of President Kazuo Iwama (1919–1982). He was a geophysics engineer lured away from his research job at the seismology research center of Tokyo University by his brother-in-law and SONY co-founder Akio Morita. Kazuo Iwama's Japanese signature is shown in black right above the lower border: 岩間 和夫.
Japanese shares usually show red seals. These are carved in a traditional formal font style and are hard to interpret by most people. These official seals have a legal impact and must be registered with the local authorities and are used as a formal signature with all kinds of business transactions.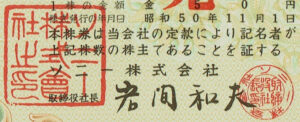 The red rectangular seal is the official company seal with characters written in the traditional way (special font, left to right/top to bottom). It says "seal of the Sony Corporation". The red round seal has an outer ring mentioning the name of the company, thus "SONY Corporation". The inner circle says "seal of the president".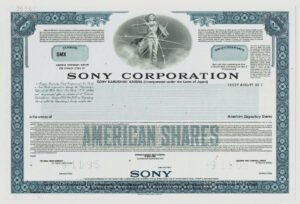 As for the Guardians of the Galaxy movie, Sony Pictures Imageworks, a Canadian unit of Sony Pictures Entertainment's Motion Picture Group, provided some of the visual effects and digital animation for the film.
Visit the blog of Franky Leeuwerk for more interesting posts about antique stocks and and bond certificates.
This news is based on an article written by Franky Leeuwerck for Scripophily magazine, published by IBSS.