[bsa_pro_ad_space id=4]
September 12, 2013 – Until now, exhibitions on the subject of the sexes have generally focussed on women. The Antikenmuseum Basel is changing this now. Our current special exhibition featuring objects from our exquisite permanent collection is devoted entirely to men. Or to be precise, men living in Athens in the 6th and 5th centuries B.C.
Torso of a naked athlete, the so-called diadumenos ('diadem-bearer'); marble; Roman copy of a bronze statue of Greek sculptor Polykleitos from c.420 BCE. © Antikenmuseum Basel.
Learning to become a man
Visitors are given the opportunity to accompany an ancient Athenian on a typical journey through life from childhood to death. As they do so, they will find out how a boy became a real man. We explain the ideals and standards set by society for young men in order to make them fully-fledged members of the community.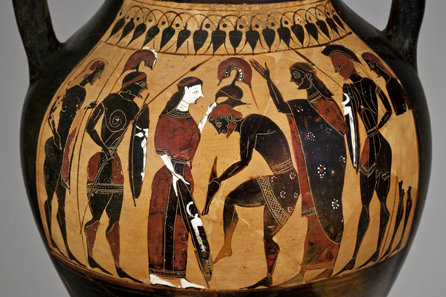 Scene of a hero's life: the dressing ceremony; wine vessel (amphora) from Athens; clay; c.550/40 BCE. © Antikenmuseum Basel.
The public can see what the perfect man looked like in ancient times on vase paintings, statues and reliefs – with constant references to modern-day representations of men.
The opening exhibit is a hermaphrodite, an ancient intersexual creature with both a bust and a penis. Visitors are invited to reflect on the importance of biology in sex determination. The public then gains an insight into the upbringing of young boys in Athens and finds out about the role played by Athenian pederasty, the homoerotic relationship between an adult male and an adolescent boy. The exhibition goes on to investigate the socialisation of men in various situations outside the family: drinking sessions with other men, religious ceremonies, war or the male sphere of politics. The exhibition also looks at the issues of arranged marriages, successful businessmen and 'supermachos' such as Heracles, the hero from ancient times.
What about the stronger sex today?
As they trace the journey through life of a typical man from ancient times, seeing some of the most beautiful nudes in Basel in the process, visitors are constantly confronted with images of men from today. Original objects from ancient times are contrasted with contemporary objects. We have organised a varied programme of events to accompany the exhibition, in which we investigate current roles and pictures of men. Information on the events can be found on our homepage.
The hippic disciplines, charriot races in particular, were the most sensational sport disciplines in antiquity. Winners, however, were not the charioteers or jockeys but the owner of the horses. Wine cooler (psykter) from Athens; c.500 BCE. © Antikenmuseum Basel.
How to be a Man. Athletes and Competitions in Antiquity
While the Antikenmuseum Basel is presenting a typical male biography, the Skulpturhalle Basel is concentrating on the traditionally male domain of sport. Sport was a key part of men's lives in ancient times as well as being of great significance in art. Our exhibition features around twenty sport-themed sculptures from our own collection as well as many high-calibre original works of art originating either from the stocks of the Antikenmuseum or from one of the largest private collections on the subject of sport. The exhibition includes sculptures, vases and other objects showing athletes as well as sports equipment from ancient times, combined to form a unique testimonial to sport in the ancient world.
What is sport for?
On the one hand, sport had a practical aim: it served as preparation for war. Physical condition, strength and martial arts techniques were of vital importance in serious battle. On the other hand, Greek man had to have a well-trained body and look good in order to be considered morally perfect. Particularly gifted men were trained to become proper top-class athletes and sent to take part in major competitions, including those held at the sanctuary of Zeus in Olympia. Athletes competed for a crown in honour of their Gods. People from the whole of Greece took part in these huge events – most of them as spectators.
From the Gymnasium to Olympia
First of all, the public will see the ancient Gymnasium and Palaestra training facilities where athletes used to prepare for their competitions. Objects are used to give a vivid picture of how men were trained in ancient times and to illustrate how essential it was for the ancient Greeks to have a beautiful body. The public will then access a huge stadium through a passage similar to the tunnel in Olympia. The exhibition continues with presentations of the ancient Olympic disciplines of running, pentathlon, wrestling, boxing, pankration (a kind of fighting) and horse and chariot racing. With the help of videos and written explanations, we examine how these sports have evolved from ancient to modern times.
Both exhibitions are presented in three languages: German, French and English.
Detailed information on the exhibitions offer the website of the Antikenmuseum Basel …
… and the Skulpturhalle.