[bsa_pro_ad_space id=4]
Alexander the Great: The Making of a Myth, supported by the Kusuma Trust and Ubisoft, is the first exhibition to traverse the rich history of storytelling about one of the most famous figures of the ancient world in the British Library. Born in Macedon, an ancient kingdom in the north of Greece, in 356 BC, Alexander built a vast empire that stretched from Greece, through Egypt and Persia, and as far as India, by the time of his death aged 32.
Featuring nearly 140 exhibits from 25 countries in over 20 languages, this major exhibition explores how Alexander's legacy turned into legend – a transformation that started while he was alive and continues today. With the oldest item dating from Alexander's lifetime and the most recent a graphic novel still in the process of publication, this captivating exhibition considers how and why the tales surrounding Alexander became more fantastical as they spread across the cultures of Europe, Asia and beyond.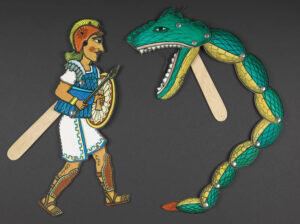 From astrological clay tablets, ancient papyri and medieval manuscripts to comics, films and video games,Alexander the Great: The Making of a Myth reveals how Alexander's character has been adapted and appropriated by different cultures and religions, with conflicting interpretations.
Peter Toth, Curator of Ancient and Medieval Manuscripts at the British Library, said: "More than 2000 years after Alexander's death, the story is still compelling. Nevertheless, this is not an exhibition glorifying the historical figure of Alexander the Great. It is the universal aspects of his story – his quest for knowledge and immortality, coupled with his fantastical adventures – that are the focus."
There will be a season of in-person and online events inspired by the exhibition, as well as a catalogue edited by Richard Stoneman available in paperback and hardback.
The British Library is indebted to the Patricia G. and Jonathan S. England – British Library Innovation Fund, as well as the American Trust for the British Library, The Gladys Krieble Delmas Foundation, The Hellenic Foundation, London, and Professor James H. Marrow and Dr Emily Rose for their support towards the development of this exhibition.
The exhibition "Alexander the Great: The Making of a Myth" will be on view at the British Library until 19th February 2023. For further information, visit the British Library website.
Do you know why Alexander's own coins never show his face while coins minted after his death often do? Read the article Human Faces Part 7: Alexander the Great.
Read more about the coinage of Alexander III.
In 2011 the Hermitage Amsterdam displayed an exhibition on "The Immortal Alexander the Great".