[bsa_pro_ad_space id=4]
Highlights of American Numismatics at Stack's Bowers
Stack's Bowers Galleries offered in their past November Auctions some highly important collections of American Coins. The November 2020 Showcase Auction was highlighted by several historic collections that were brought to market for the first time in decades. Hosted at the Balboa Bay Resort in Newport Beach, California, the sale witnessed remarkably strong bidder participation through the firm's award winning website and mobile apps, an active phone bidding bank and socially-distanced floor bidding in the auction room. With over $19.9 million in overall prices realized for U.S. coins and paper money, the results confirm Stack's Bowers Galleries' status as a top resource for quality collectibles within these segments.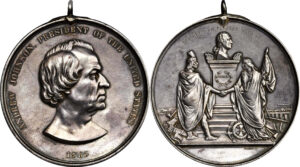 The Larry Ness Collection of Indian Peace Medals
The highly anticipated Larry Ness Collection of Indian Peace medals crossed the auction block on November 10 as part of the Stack's Bowers Galleries November 2020 Showcase Auction, held at the Balboa Bay Resort in Newport Beach, California. Larry Ness built one of the most complete collections of this series ever assembled, including a remarkable 36 silver originals awarded to Native Americans, an impressive selection of bronzes, and a representative set of French, Canadian, and most notably, British medals. Overall, more than $900,000 was realized by the Larry Ness Collection across 130 lots, emphasizing its place as one of the most significant cabinets of Indian Peace Medals ever formed.
Larry Ness was inspired by the remarkable degree of completion revealed in Stack's Bowers Galleries' sale of the John J. Ford, Jr. Collection and set out to complete the Indian Peace Medal series for himself. Ness' 36 silver originals fell just short of the 45 pieces required for a complete set, though the auction house is aware of only one other collection that contained so many besides the Ford Collection. That was the Senter Collection sold in 1933, which included some duplicates, a situation not seen in the Ness offering.
The selection of silver medals was highlighted by an 1865 Andrew Johnson medal that brought $55,200 and an 1890 Benjamin Harrison medal that earned $48,000; remarkably, both pieces were provenanced to the original recipients. An historic example of the famous 1801 Thomas Jefferson medal also drew considerable attention and sold for $31,200.
The Ness Collection of bronzes was similarly impressive and included many important rarities of the later oval series. An oval MS-67 BN (NGC) 1877 Rutherford Hayes medal claimed the top price among these bronzes at $10,200. This was followed closely by a MS-63 BN (NGC) "1801" Large Size Thomas Jefferson bronze medal that sold for $9,300.
A rare 1843 "Washington" Fur Trade medal garnered the third highest price of the session at $45,600, while a 1777 George III, Lion and Wolf medal took the highest price among the British medals at $16,800.
With over $900,000 in prices realized, the Stack's Bowers Galleries sale of the Larry Ness Collection of Indian Peace Medals will certainly be remembered among the most important offerings of this historic series.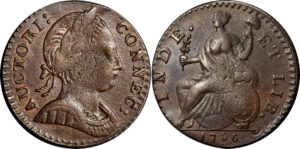 The E Pluribus Unum Collection Part 2
Built over more than half a century, the E Pluribus Unum Collection is replete with coins and medals of superb rarity and quality, many with pedigrees dating as far back as the 19th century. Sales from this collection commenced in the Stack's Bowers Galleries November 2019 Auction with the record-setting $1.5 million sale of New Jersey coppers, an offering that included a remarkable eight coins from the Maris plate.
Building upon this momentum, Part 2 of the E Pluribus Unum Collection was among the most anticipated specialized offerings in the firm's November 2020 Auction, hosted at the Balboa Bay Resort in Newport Beach, California. This second selection offered nearly 500 lots focused on 17th and 18th century colonial types, including over 200 Washington pieces. Of special note were nearly 40 Machin's Mills halfpence by die marriage, more than 60 Connecticut coppers, and dozens of numismatic delicacies featuring multiple strikes, brockages, and high-quality overstrikes. Winning bids for the E Pluribus Unum Collection, Part 2 totaled more than $1.1 million, emphasizing remarkable strength among these more specialized categories.
The top price, $66,000, was earned by the finest known 1786 Scholar's Head Connecticut copper graded AU-53 by PCGS. An AU-55+ (PCGS) Saint Patrick farthing in silver, the second finest graded by that service, sold for $28,800. The incredibly rare VF-30 (PCGS) Raleigh Plantation Token was last offered in Stack's Bowers Galleries' 1988 sale of the Norweb Collection and earned $18,000 in the November 2020 auction.
A fantastic Flipover Double Strike with Brockage error on a 1785 Vermont copper, provenanced to the famous Crosby and Parmelee collections, brought $14,400. The incredible selection of Machin's Mills halfpence was highlighted by the MS-63 BN (PCGS) 1787 Vlack 17-87A, the sole finest graded for the type by PCGS, that sold for $21,600.
The Washington pieces offered a tour through the most iconic issues of the series including medals, tokens, and colonial-era pieces intended for circulation. A MS-63 (PCGS) Funeral Medal in white metal brought the top price among this category at $12,600, followed up at $10,200 by a rare "Plain Edge" 1795 Liberty and Security penny graded VF-30 (PCGS). A magnificent SP-65 (PCGS) U.S. Mint Cabinet medal in silver earned $9,000 and an historic MS-62 (PCGS) fire-gilt 1805 Eccleston Medal with secret marks brought $7,500. An iconic ca. 1880 Washington Before Boston Medal in silver with a grade of SP-63 (PCGS) sold for $6,000, while a rare SP-62 (PCGS) Letter to Hamilton Medal in white metal was bid to $5,800.
The over $1.1 million in prices realized by Part 2 of the E Pluribus Unum Collection solidifies its status as one of the greatest cabinets of U.S. Colonial and Early American numismatics.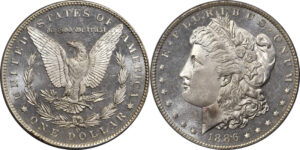 The Larry H. Miller Collection, Part One
Part One of the Larry H. Miller Collection was a much anticipated highlight of the Stack's Bowers Galleries November 2020 Showcase Auction, held at the Balboa Bay Resort in Newport Beach, California. Acquiring coins discretely and off the radar of the collecting community, the late Larry H. Miller assembled a world-class cabinet that spanned nearly the entire Guide Book of United States Coins. Part One, sold on November 12th, encompassed the most emblematic issues of the late 19th and early 20th centuries and realized more than $9.05 million across 436 lots.
This presentation was highlighted by a world-class set of Morgan dollars that featured some of the very finest known of their issues. Among the top highlights was the incredible MS-67 DMPL (PCGS) CAC 1886-O that specialist Wayne Miller called "the most spectacular Morgan dollar known;" it sold for $780,000. The famous MS-68 (PCGS) CAC 1884-S from the Miller Collection is the sole finest known and traces its provenance back to such acclaimed numismatists as David Hall, George Bodway and Jack Lee. That astounding piece commanded a price of $750,000. The MS-68 (PCGS) Jack Lee 1892-S dollar also ranks as the finest certified and was bid to $630,000. The MS-69 (PCGS) CAC 1896-S offered virtual perfection and earned $720,000. This piece is ranked not only as the sole finest for the date but is also tied with the finest graded across the entire range of Morgan dollars.
Offered alongside these incredible condition rarities, were exceptional examples from the most famous dates of the series, including an 1889-CC dollar graded MS-65 PL (NGC) that brought $324,000. A Proof-67 Cameo (NGC) CAC 1895 dollar, a date often referred to as the "King of the Morgan dollars," sold for $132,000. While this set represents just one of his many accomplishments within United States numismatics, Larry H. Miller will surely be remembered as one of the greatest collectors of the Morgan dollar series.
The minor denominations offered a tour through early 20th-century U.S. coinage, illustrating the emphasis on artistry that enhanced United States coinage following the presidency of Theodore Roosevelt. Among these were Lincoln cents, Buffalo nickels, Mercury dimes, Standing Liberty quarters, Walking Liberty half dollars and classic commemorative issues, all of exceptional quality. Highlights included a MS-65 (PCGS) 1918/7-D nickel that brought $216,000 and a MS-67 (NGC) 1918/7-S quarter that realized $102,000. A rare MS-65 (NGC) 1921-S half dollar was bid to $78,000, while an iconic 1916-D Mercury dime graded MS-65 FB (PCGS) CAC commanded a price of $44,400.
Stack's Bowers Galleries is honored to have been selected to present at auction the Larry H. Miller Collection, the proceeds from which will help facilitate the Miller family's $50 million donation to Intermountain Healthcare's Primary Children's Hospital in Lehi, Utah. Part Two of this spectacular collection will cross the block in the firm's December 2020 Showcase Auction. That offering will be highlighted by a magnificent type set of early United States coinage that includes the Gem Stickney-Eliasberg 1804 silver dollar, and an incredible suite of Mormon gold coinage comprising some of the finest known survivors. These are joined by impressive sets of Barber coinage across all denominations, including the Gem Eliasberg 1894-S dime.
Naples Bay Collection & Stack's Bowers Galleries Rarities Night Session
Accompanying these historic single-owner cabinets were impressive offerings from the Naples Bay Collection and other important properties, with highlights presented in the Stack's Bowers Galleries Rarities Night session. A stunning Proof-66 Deep Cameo (PCGS) 1896 Liberty Head double eagle brought the top price of the session at $210,000, followed by a significant MS-64 DPL (NGC) 1889-CC Morgan dollar that sold for $114,000. Classic rarities from the Naples Bay Collection drew considerable excitement, highlighted by an AU-55 (PCGS) 1797 Small Eagle $10 that earned $102,000 and a VF-30 (PCGS) 1797 half dollar that was bid to $90,000. Numerous 20th century rarities were also showcased, including a MS-65 (NGC) 1907 Wire Rim Indian $10 that garnered $66,000.
An impressive selection of U.S. currency was marked by significant rarities across Silver Certificates, and Gold Certificates, as well as exciting Dual Denomination errors. Paper money highlights included a PCGS Currency About New 53 PPQ 1880 $50 Silver Certificate that brought $72,000 and a PCGS Banknote AU-55 1918 Atlanta $500 Federal Reserve Note that earned $50,400.
With over $19.9 million in prices realized for the Stack's Bowers Galleries November 2020 Showcase Auction, the firm's ability to connect a global clientele with historic rarities is more apparent than ever. Stack's Bowers Galleries is now looking ahead to its December 2020 Showcase Auction, featuring Part Two of the Larry H. Miller Collection and additional selections from the Naples Bay Collection. The December sale is now available for viewing and bidding at the firm's website. Contact the firm via email or 800-566-2580 to consign your collection to a future Showcase Auction and take advantage of their industry-leading expertise and bidding platforms.