[bsa_pro_ad_space id=4]
High Quality Italian Coins at Nomisma's "500 Rarities" Auction
On 28 an 29 October Nomisma's auction 60 and 61 will be held at the Palace Hotel in Serravalle, San Marino. Auction 60 offers exactly 500 high-quality rarities focusing on Italian, Greek, Roman and World coins. Auction 61 is a general auction. Live auction will be available for registered users.
These are some of the highlights:
Lot 16: Marcus Aurelius. Aureus (161-180) Bust on obverse. Virtue standing on reverse. RIC 480b AU (6,34 g). Extraordinary gold coin minted by whom was considered one of the best emperors of Roman history. This aureus still has its shine and the details are very well conserved. Starting price: 7.000,00 EUR.
Lot 36: Belgium. Leopoldo I (1831-1865). 5 Francs 1832 Pattern on heavier planchet – This silver pattern coin is catalogued as R4 and it is presented in slab PCGS PR63. It weights 27.60 grams instead of 25 grams. It was donated, along with 10 cents in silver and the centime to the most important institutional positions. Starting price: 10.000,00 EUR.
Lot 41: Biafra Crown 1969. KM 5 AG R4 – NGC MS61. This silver Crown is one of rarest African coins in modern times, so much so that no more than five are known. The bust on the obverse is Chukwuemeka Odumegwu Ojukwu, who was chief of staff during Biafra's independence. Starting price: 10.000,00 EUR.
Lot 58: France. Monnaies de l'Indo-Chine française – Proof – Set 1889 – Six values coined for the Universal Exhibition of Paris in that year commemorating the centenary of the French Revolution – In a splendid period case issued in 100 copies of which are currently less than 10 those surveyed. This box comes from the very important collection of Jean Lecompte, author of the book "Monnaies coloniales françaises" in which it is illustrated. Starting price: 60.000,00 EUR.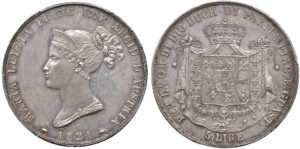 Lot 235: Parma. Maria Luigia (1815-1847) – Gig. 6 AG – PCGS MS63+ "2/1" Coin in exceptional conservation cataloged as R5 with only 3 known pieces and minted by Napoleon's second wife to remember forever the date of her husband's death, precisely 1821. It was published for the first time in an article of Santamaria in 1961 and then presented in auction by the same roman company, becoming one of the major rarities of the Italian nineteenth century and in general of all the Napoleonic coinage. Starting price: 250.000,00 EUR.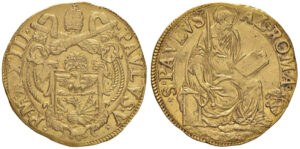 Lot 310: Paul V (1605-1621). Quadrupla A. XIII – Munt. 7 AU (g 13,40) R3 – Grading: XF. Exceptional conservation for this type of coin. The coinage of Paul V is among the richest of the pontifical series between the sixteenth and seventeenth centuries. Focused on silver coinage, having been minted large quantities of testoni, gold coinage was always a little neglected because evidently there was little available on the market. The quadruple of this pope are therefore very rare, but the first to have issued them with a certain regularity and not only occasionally as his predecessors did. Starting price: 30.000,00 EUR.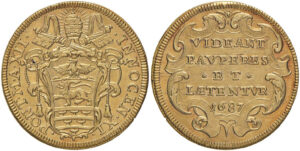 Lot 321: Innocent XI (1676-1689). Quadrupla 1687 A. XII – Munt. 8 AU R4 – Grading: almost FDC. This coin belongs to the very rich papal series with the slogans on the reverse that incited charity and beneficence. All the quadruples of Pope Innocent XI are to be considered of great rarity and, for the precision of the coinage, certainly among the most beautiful and prestigious of the entire papal coinage. Starting price: 60.000,00 EUR.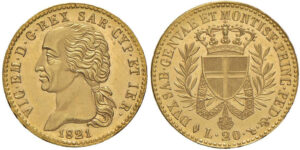 Lot 392: Vittorio Emanuele I (1814-1821). 20 Lire 1821 – Nomisma 513 AU R3 variant with PRINC and a point – FDC. Exceptional conservation. Certainly by far the best known specimen. The issuance of the 1821 20 lira coin was a very low number of pieces and of them very few were minted with the bust of Vittorio Emanuele I. The rest were minted with the effigy of his successor Carlo Felice. Starting price: 150.000,00 EUR.
You can browse through both 60 and 61 complete auctions catalogues on the Nomisma website: Auction 60 and Auction 61.
For more information go to the website of the auction house.