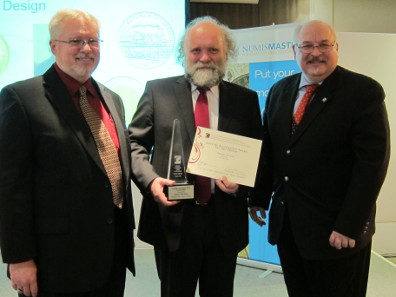 [bsa_pro_ad_space id=4]
by Ursula Kampmann
February 27, 2014 – Engraver Herbert Wähner working at Austrian Mint, felt a bit awkward occupying center stage when he was being granted the Lifetime Achievement Award of Krause Publications on 8 February 2014. He shouldn't be nervous, though, not a bit. After all, he is the only one of all the award winners present whose personal achievement is responsible for his success. For decades now, his harmonious designs contribute significantly to the Austrian coins being quite popular.
Herbert Wähner (at center) accepts the prize from the hands of Tom Michael and George Cuhaj. Photograph: UK.
Since 1984, Herbert Wähner (*1961 in Steyr) worked as engraver – only 21 years of age but already a master craftsman – at the Austrian Government Mint, as it was called back then, when he appeared in person at the Heumarkt in Vienna. At that time, he had completed the Fachschule für Gestaltendes Metallhandwerk in Steyr where his talent caught the attention of his teachers. It was a former teacher of his, therefore, that phoned Herbert Wähner a couple of years later to tell him that he had recommended him for a position at the Mint. Already the very first visit filled the young man with such an enthusiasm that he quitted his job and changed to the Mint to work as an engraver there. "It was there," said Herbert Wähner in an interview after the prize giving ceremony, "where my real education in regard to coins took place. It was like medieval times. The master passes his knowledge on to his apprentice. I can't say how much I owe to my then teacher, Alfred Zierler." Back then, Zierler was the chief engraver of the Vienna Mint. And it testifies to the likeable modesty of Herbert Wähner that he – who already possessed the master craftsman diploma back then – today considers himself an apprentice.
The winners of the Coin of the Year Award 2014. Photograph: UK.
Since then, the coins designs by Herbert Wähner have won numerous prizes. They have been victorious in one of the categories of the Coin of the Year Award twelve times, and three times one of his works of art was even granted the award Coin of the Year.
100 shilling coin. Philip II and Ferdinand I. Rev. Charles V. Mintage: 75,000 specs. Photo: Austrian Mint.
The young engraver won his first prize for one of 100 shilling coins, issued in 1992. That first work already catches the eye thanks to its infatuation with details and the careful integration of the inscription. There were many, many awards to follow.
25 euro coin 2003. 700 Years Hall in Tirol. Obv. Herbert Wähner. Mintage: 50,000 specs. Photo: Austrian Mint.
The most famous work of art by the hands of Herbert Wähner most probably is the obverse of the first niobium coin depicting a satellite that maps the city of Hall. Actually, that motif is rather typical of Herbert Wähner. When asked about his favorite subjects, he replies that it is the difficult ones that attract him the most, the ones that don't mean anything to him. The word bionics is a case in point, or cosmology. "Making the incomprehensible comprehensible," that would be the artist's, hence his, task.
25 euro coin 2012. Bionics. Rev. Herbert Wähner. Mintage: 65,000 specs. Photo: Austrian Mint.
Naturally, we have asked Herbert Wähner about how his creative process actually works. He describes it as follows: "First of all, I inform myself. I read a lot, search online and develop an idea. At this point, checking with the experts is essential since we want to be sure that everything we depict is 100% accurate. Take our series Prehistoric Life. It is incredibly challenging to best know how to designing and engraving a reconstruction of the dinosaur. For my part, I have no idea what an ichthyosaurus and a nothosaurus have really looked like. That's why we need the experts to examine our sketches with great care."
20 euro coin 2013. Prehistoric Life / Triassic. Rev. Herbert Wähner. Mintage: 50,000 specs. Photo: Austrian Mint.
"The exact moment I become electrified? When I know how to approach the illustration of a coin? Well, that's hard to tell. The topics are constantly developing, they are always there. And all of a sudden, an idea has emerged which is the point where the real work starts. After all, not every idea can turn into an image on a coin. I discuss with my fellow engravers, Mr. Thomas Pesendorfer and Mr. Helmut Andexlinger. Their input always helps me a lot. We are working on the very same piece most of the time anyway. One of us does the obverse while the other deals with the reverse. Afterwards, we bring the technicians in to tell us what is feasible and what is not."
500 shilling coin 1991. Herbert von Karajan. Herbert Wähner. Photo: Austrian Mint.
To our question which of his coins is dearest to him, Herbert Wähner replies: "That is easy, it is always the next to follow. Wait a minute, actually there is one which I cherish very much. It is the 500 shilling piece with the portrait of Herbert von Karajan. I think, with this coin, I have been most successful in matching subject and inscription.
A very exclusive preview on upcoming material. The readers of CoinsWeekly are the first to see this new coin! 20 Euro 2014. Fall of the Iron Curtain. Photo: Austrian Mint.
Most recently, I have done something on the Iron Curtain with a man walking through the coin, as it were. On one side, he disappears, and on the other he enters a whole new world. I really like the subject very much."
At the end, we have asked Herbert Wähner a truly impertinent question, i.e. if he considers himself more an artist or a craftsman. His answer came like a shot: "As an artisan. When engraving, my artistic license is limited. I have to take the coin as a medium with a very flat relief into account. It is a commercial product and hence ought to please the coin collector. Creating a coin that I, as an artist, do appreciate as well – that is the great challenge."
Thus, we may attest Herbert Wähner the same problem as the one faced by Michelangelo or Cellini. They, too, had to convince commissioners, were being given strict specifications as to how their works of art should have looked like. You know, that is the true challenge for every artist: creating a work that speaks to just to him but to many people.
CoinsWeekly congratulates Herbert Wähner warmly on the recognition of his lifetime achievement that found its expression in the Krause award. And we very much hope that he will present us with many more beautiful coin designs in the future.