[bsa_pro_ad_space id=4]
The world renowned Dutch tattoo artist Henk Schiffmacher is celebrating his 40th anniversary in the business. The Royal Dutch Mint is honouring the artist with the Henk Schiffmacher medal, based on his own artistic design and portrait. He was presented with a special gold plated version of the medal in his tattoo shop in Amsterdam.
How it all began
Ever since he was little, Henk Schiffmacher loved to draw. He won many annual drawing competitions at a young age. His fascination with tattooing began in the seventies and in 1979 Schiffmacher opened his first tattoo shop. Now, 40 years later, he's a world renowned tattoo artist who's also been honoured with the title Officer of the Order of Orange-Nassau.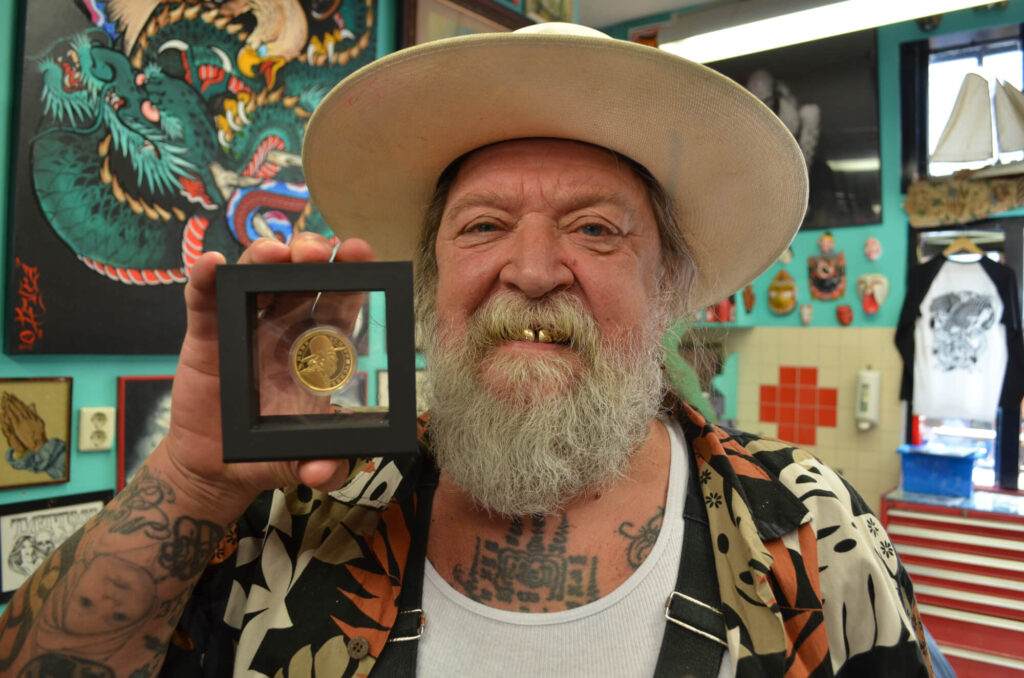 International fame
Under his nickname 'Hanky Panky', Schiffmacher is internationally recognized as one of the greatest in the world of tattooing. Schiffmacher's tattoos are popular with a wide and famous audience. Earlier this month, popstar Rita Ora visited his tattoo shop. He also tattooed several members of the Red Hot Chili Peppers and Pearl Jam, Kurt Cobain, Robbie Williams and Lady Gaga. Schiffmacher does more than just decorate people with beautiful designs, he's also very interested in the history of tattoos.
'I'm a great collector of things that have something to do with tattoos and its history. The love I have for collecting came from my parents; my mother was a coin collector. She would've been very proud to hear that her son is getting his own coin! I'm very happy that the Royal Dutch Mint made this possible.' – Henk Schiffmacher
Limited edition
The Henk Schiffmacher medal is extra special because Schiffmacher designed both the coin and the coincard himself! It's an artistic mixture between coin and tattoo art, featuring many typical Henk Schiffmacher trademarks, like his famous 'skull'. Only 4,040 medals in coincard will be commissioned, celebrating his 40th anniversary.
The coin, or 'medal in coincard' is available through the Royal Dutch Mint's website (delivery in Europe only) and is exclusively minted by the Royal Dutch Mint. This medal is not legal tender, it is however, a high quality and unique collector's item for fans and tattoo enthusiasts.
'For us, this coin stands for a very special collaboration. Henk created unique tattoo drawings for us to translate into this magnificent coin.' – Bert van Ravenswaaij, CFO Royal Dutch Mint
Henk Schiffmacher is proud to be an Amsterdam citizen. You can watch a video of Schiffmacher talking about his work here.
Go to the McGill University website if you want to learn about the history of tattoos and what the mummy Ötzi has to do with it.
Recently, in the tattoo parlour… Read our cartoon here.