[bsa_pro_ad_space id=4]
March 26, 2015 – One month after his 106th birthday Swiss artist and medallist Hans Erni died on 21 March 2015. He bequeaths a rich artistic oeuvre comprising drafts of a banknote series never issued, a commemorative coin, medals, and stamps.
Hans Erni in his studio in 2010. Photograph: Barbara Hess / http://creativecommons.org/licenses/by/3.0/de/deed.en
Hans Erni was born on 21 February 1909. He was son to the operator of the steamboat running on the Lake Lucerne and one of his seven children. At the age of only 18 Hans Erni took up art studies in Lucerne and travelled to Paris one year later where he quickly socialised with the international artists' scene. Erni had close contact with so great artists as Picasso and Braque. He helped them in exhibiting their works in the Lucerne art museum.
At that time such urbanity was suspicious in Switzerland. When a new banknote series designed by Erni and another artist was to be issued in 1938 it was, instead, pulped at the instigation of a Lucerne parliamentarian. In the late 1930s it was truly inconceivable for a bourgeois that 'of all things a communist like Erni' should have obtained such a contract. Yet in 1950 the Federal Council officially declared that Hans Erni would never again get a public contract.
Actually Hans Erni never joined a political party although one may call his works political without any doubt. His oeuvre reflects an engaged man who always said what he thought right. It did not matter to him whether he created election posters for the introduction of the women's suffrage or the Swiss pension scheme AHV, or stamps, coins, or medals.
Medal on 50 years circus Knie, 1969. © www.schweizer-geld.ch
Since 1969 Hans Erni has created some 25 medals in gold, silver and bronze. The first one commemorates 50 years existence of circus Knie.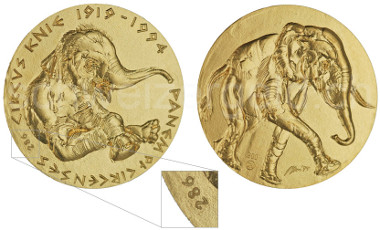 Medal on 75 years circus Knie, 1994. © www.schweizer-geld.ch
25 years later Erni designed again a Knie medal.
Federal sport festival Schwing- und Aelplerfest Langenthal, 1983. © www.schweizer-geld.ch
You recognise Erni's medals immediately by their high relief. He was a dedicated sportsman and many times designed medals in occasion of sport events …
International Year of the Forest, 2011. © www.schweizer-geld.ch
… but also on other topics he thought to be important. In 2011 he created a medal on the international year of the forest.
50 Years UNESCO, 1996. © www.schweizer-geld.ch
His international recognition earned him even a contract with the UN.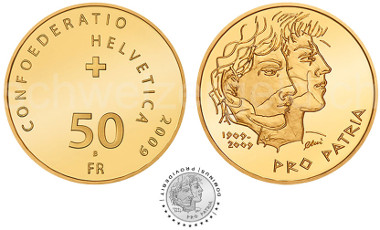 50 Francs commemorative coin "100 Years Pro Patria", 2009. © www.schweizer-geld.ch
In 2009 Switzerland assigned him the task of designing an official commemorative coin: 100 years Pro Patria.
Four elements: fire, 1977. © www.schweizer-geld.ch
Today still many of his medals are on offer at coin shows and on the market.
Oh, and in 1989 Ruth Dreifuss officially apologised on behalf of the Federal Council for the unfriendly treatment the artist had sustained from the public institutions.
You can read more about Hans Erni and his medallic work on the Erniland website.
Medals by Hans Erni with all technical data and detail images are presented at Schweizer Geld.
Mr Johannes Müller was so kind to provide us quickly with all images of the medals and the commemorative coin. Many thanks for his assistance!