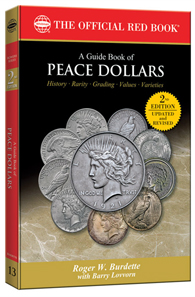 [bsa_pro_ad_space id=4]
August 2, 2012 – Whitman Publishing, LLC, announces the release of the second edition of the Guide Book of Peace Dollars, by award-winning researcher and writer Roger W. Burdette. The 288-page book has debuted June 28, 2012, with a suggested retail price of $19.95.
Burdette is the author of the three-part Renaissance of American Coinage, each volume of which has won the Numismatic Literary Guild's "Book of the Year" (2006, 2007, and 2008). He is also a contributor to the Guide Book of United States Coins (the "Red Book"), and has shared research and insight in numerous other Whitman books.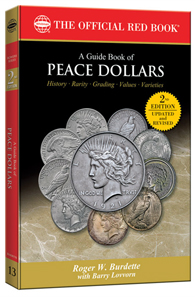 Roger W. Burdette, with Barry Lovvorn, Guide Book of Peace Dollars, 2nd edition. Whitman Publishing, LLC, Atlanta (GA) 2012. 288 pages, illustrated in full color. 6 x 9 inches, softcover. $19.95.
The Guide Book of Peace Dollars is volume 13 in Whitman's "Bowers Series" of numismatic references. It covers every date and mintmark of America's last 90% silver dollar, which began as a commemorative of peace after the tribulations of World War One. The book also studies the mysterious 1964-D Peace dollar, as well as Proofs, patterns, trial pieces, errors and misstrikes, countermarks, die varieties, and famous collections.
Noted Peace dollar collector Barry Lovvorn assisted with the coin-by-coin study, interviewed past employees of the Denver Mint regarding the 1964-D issue, and contributed other research.
Burdette explores the origins and history of the Peace dollar (including the American Numismatic Association's involvement), early designs and casts, the coin's production process, ways to collect, preservation, the market effect of hoards and meltings, and unusual examples. In addition to a coin-by-coin analysis that includes market values and certified population data, Burdette presents the biographies of key participants in the Peace dollar's story, a Van Allen–Mallis cross-reference, and a bibliography.
The first edition of the Guide Book of Peace Dollars debuted at 11 o'clock, November 11, 2008 – the 90th anniversary of the official ceasefire that brought peace after the Great War.
The new second edition is available online, and in bookstores, hobby shops, and other retailers nationwide.
More information on this book is available here.