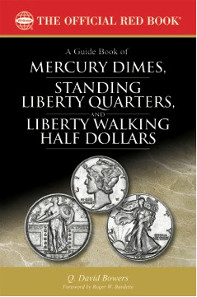 [bsa_pro_ad_space id=4]
September 17, 2015 – Mercury dimes, Standing Liberty quarters, and Walking Liberty half dollars were minted between 1916 and 1947 – a span of time that included two world wars, the end of the Progressive Era, the Roaring Twenties, and the Great Depression. Today the three silver coins are among the American classics most often found in old-time collections. Thousands of active hobbyists seek them, from casual collectors to die-variety specialists and registry-set competitors. Whitman Publishing has now released a guide book of these popular coins. The author is Q. David Bowers.
Q. David Bowers, A Guide Book of Mercury Dimes, Standing Liberty Quarters, and Liberty Walking Half Dollars. Foreword by Roger W. Burdette. Whitman Publishing. Atlanta (GA), 2015. Softcover, 320 p., full color, 6 x 9 inches. ISBN: 079484314-X. Retail USD 29.95.
The new 320-page Guide Book provides instructions on how to grade these coins, tips on smart buying, retail values in multiple grades (including Proofs), certified-population data, and an analysis of each date and mintmark. Richly illustrated in full color, the book features high-resolution enlargements for important overdates and other die varieties. Mintages, specifications, and other details add to the book's importance as a standard reference, and colorful essays set the coins in the context of their historical era.
Eight appendices include biographies of the coins' designers; histories of the mints that struck them; information about the U.S. Mint directors and superintendents of 1916 to 1947; pattern coins of 1916; misstruck and error coins; the American Silver Eagle redesign that used the Liberty Walking motif; the Mint's gold 1916–2016 centennial coins; and techniques of smart purchasing and negotiating.
"Bowers is an expert guide," says foreword writer Roger W. Burdette. "His journeys are always enjoyable, filled with fresh insights and unexpected tangents. This is a book to be read, put aside, then re-read."
For more information on the book and for placing an order, visit the website of Whitman Publishing.