[bsa_pro_ad_space id=4]
by Björn Schöpe
April 9, 2015 – In the USA what is thought to be the nation's first time capsule was recovered. It dates back to the time of the foundation of the United States and can be seen as a message straight from the Founding Fathers to posterity.
The time capsule prior to opening. Photograph © Museum of Fine Arts, Boston.
In 1795 the French Revolution started in Europe. At that time the United States of America had already won their independence. Three men who had fought particularly for the separation of the American colonies decided to leave a time capsule for future generations, probably the very first time capsule in the history of the USA.
Samuel Adams, Paul Revere und William Scollay buried a small brass box in a cornerstone of the Massachusetts State House building. In this box they stored objects which were thought to testify to their own time. In 1855 the time capsule was found during building work. It was opened, the content was cleaned and more items were added.
When repair work was necessary after a water damage in winter 2014 the construction company noticed that this time capsule was hidden in a corner stone. Conservators of the Boston Museum of Fine Arts were called and over several hours they were able to remove the time capsule.
With police protection the small box weighing some 5 kilograms was driven to the museum where it was scrupulously analysed. On 6 January 2015 the museum publicly presented the content of the box:
Coins from the time between 1652 and 1855 were kept in the time capsule. Photograph © Museum of Fine Arts, Boston.
silver and copper coins from 1652 to 1855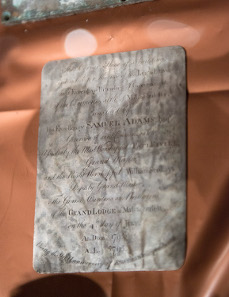 Also a silver plaque. Photograph © Museum of Fine Arts, Boston.
a silver plaque engraved by Paul Revere
a copper medal depicting George Washington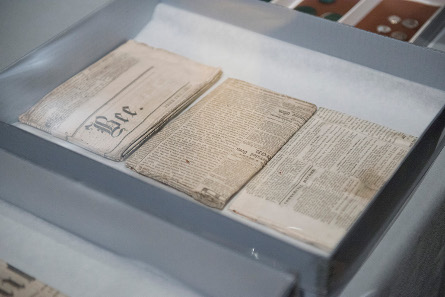 And several newspaper articles. Photograph © Museum of Fine Arts, Boston.
paper impression of the Seal of the Commonwealth
calling or business cards
For the moment the objects will be exhibited in the Boston Museum of Fine Arts. Of course, none of these items is particularly unique. We are fascinated, though, by the idea that men chose exactly these objects to tell us something of their time. Currently the governor of Massachusetts considers if further content shall be added before hiding the time capsule again. One wonders through what kind of object he wishes to speak to posterity.
The Boston Globe offers many images of the recovery.
This is the website of the Museum of Fine Arts.
The Boston Magazine reported on the opening of the time capsule.