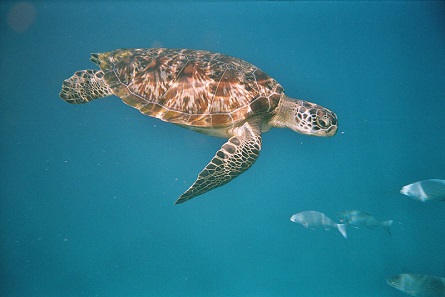 [bsa_pro_ad_space id=4]
by Annika Backe
translated by Christina Schlögl
March 16, 2017 – The name says it all. "Omsin" is a Thai word and roughly translates to piggy bank. And the green sea turtle, who had to undergo several hours of emergency surgery, turned out to be just that. Surprised doctors found 915 coins inside her stomach with a total weight of 5 kilograms.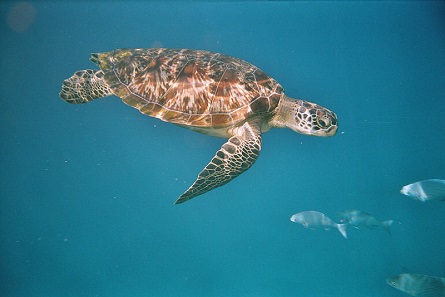 The doctors hope, Omsin will recover and soon be as well as this fellow green sea turtle. Photo: Schuetze77 / CC BY-SA 3.0
The animal, which belongs to the genus marine turtles (chelonidae), lived in a pond in Sriracha, about 120 kilometres south-east of Bangkok. Environmentalists brought the turtle to a navy protection system, because it could hardly use one of its legs for swimming. The veterinarians expected a tumor and x-rayed the 59 kilo turtle-lady. Looking at the images, they saw that Omsin's stomach was full of metal pieces.
A custom and its almost-victim
During a surgery that lasted several hours, the team of the university hospital Chulalongkorn in Bangkok removed 915 predominantly Asian coins, most of which were heavily corroded. The weight of the coins had already lead to a fracture of her plastron and infection had spread in Omsin's body, who was close to becoming a victim of a wide-spread superstition. In Thailand, many people like to throw coins into ponds with turtles. This is believed to bring luck and a long life.
Omsin's Doctors hope, that she will live a long life now, too. They are content with the result of the operation. Dr. Nantarika Chansue found quite impressive words during an interview: "When I realised what had happened, I got very angry at these people. It does not matter whether they did it knowingly or unknowingly, they have harmed this animal." The four-legged patient will stay at the clinic for observation several more weeks. After half a year of after-care, the turtle will be released into nature.
Meanwhile Omsin has again come by some money, but entirely without pain this time. As a reaction to reports of the Thai media, a sum of 428 dollars (roughly converted) were donated since her admission in February. The money was used for Omsin's operation.
You can see a video report on Omsin on The Guardian.
And you can learn more about critically endangered sea turtles on this Website of the WWF.