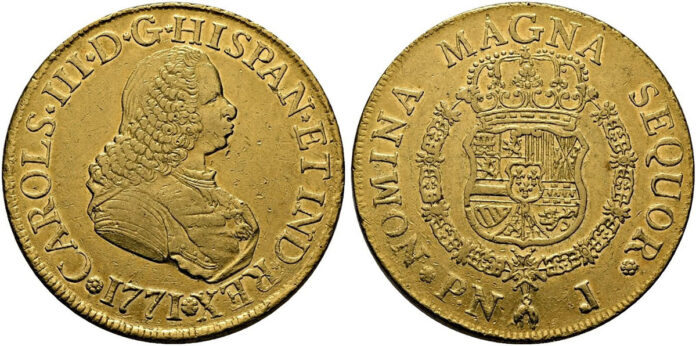 [bsa_pro_ad_space id=4]
Greek and Rare Spanish Coins at Cayón
Cayón Subastas new E-Auction closes on 23rd June 2021 at 5:00 PM (Madrid). It features more than 400 lots including a small collection of Greek coins (29 lots), Spanish medieval coins, issues by the Catholic Kings to Felipe VI (about 280 lots), and some world coins (about 100 lots).
Highlights are some nice tetradrachms from cities as Myrina, Kyme and Athens; two double excelentes by Catholic Kings (one rare without names in the legend), a group of Guatemala cobs (including 8R 1746), 12 gold 8 escudos, a mint state real 1818 Guatemala – MS 65 –, a rare Manila medal 1895, an Olympic Games Russia gold 100 rubles set and 150 rubles platinum and several Spanish and world gold coins.
Some highlights:
Results
The highly important Spanish medieval collection volume II, sold on 27th May 2021, brought strong results. More than 85% of lots where sold and most of them with big jump increments from starting prices.
Some honorable mentions:
Lot 665: Alfonso VII (1126-1140). Dinero, Toledo Starting price: 280 EUR. Sold for 3,500 EUR.
Lot 674: Alfonso VII (1126-1157). Dinero, León. Starting price: 75 EUR. Sold for 1,000 EUR.
Lot 747: Alfonso VIII (1158-1214). Dinero, Calahorra. Starting price 50 EUR. Sold for 900 EUR.
Lot 658: Urraca I (1109-1126). Dinero, San Antolín (Palencia). Starting price 1,100 EUR. Sold for 1,950 EUR.
Lot 656: Alfonso VI (1108). Dinero, Santiago de Compostela. Starting price 500 EUR. Sold for 1,600 EUR.
View all 400 lots of E-Auction 76.
For further information on Cayón Subastas, visit their website.