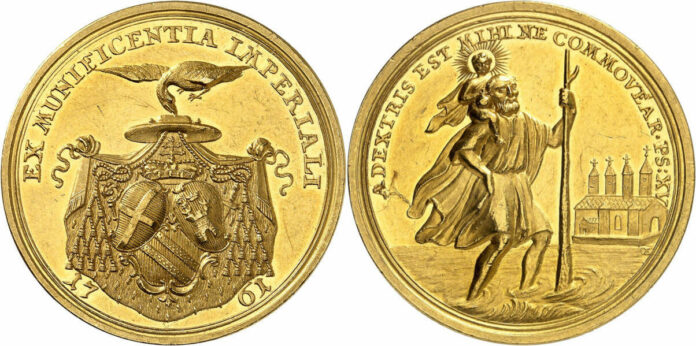 [bsa_pro_ad_space id=4]
Golden Rarities at Heidelberger Münzhandlung
From 14 to 16 November 2022, Heidelberger Münzhandlung will hold its 85th auction sale. Once again, it will be an online-only event and contains desirable items regardless of a collector's budget. From two-digit to five-digit estimates, you can find whatever you are looking for, often in exquisite conditions, which are described rather modestly.
The focal point of the material is, of course – as is custom at the Grün auction house – on coins from the German states and the German Empire. However, the sections of ancient and world coins also have a lot to offer. Study the auction catalogue carefully. You will discover many interesting pieces!
Ancient Coins
The auction starts with about 400 lots of ancient coins, Celtic, Greek, Roman and Byzantine issues. On offer are both coins for experienced collectors as well as affordable pieces for newcomers. Be it rainbow cups, Persian siglos or provincial bronze issues. There's something on offer for everyone.
This holds especially true for Roman coins. Collectors of issues from the Roman Republic in particular should study the catalogue, which contains many historically interesting coin designs. Of course, portraits of Caesar, Marcus Antonius and Octavianus are on offer.
Those who focus on coins of the Roman Empire will find a rich selection too, including all materials: gold, silver and bronze.
World Coins and Medals
The offer of world coins and medals ranges across the entire globe. Particularly remarkable are the many interesting gold issues. One of the most beautiful pieces is the medal that was minted on the occasion of the golden jubilee of Queen Victoria's reign. The piece from 1887 is still in the original gold-stamped case in which the collector bought it at the time.
The First Krugerrands: Icons of Modern Coinage
Actually, a second look is always worth it when it comes to the catalogues of Herbert Grün – even regarding seemingly common pieces. Let's take the three specimens of the popular Krugerrand as an example. Not only are they of the finest quality, they are also from the earliest years in which Krugerrands were ever minted: 1967, 1968 and 1969. While this gold coin conquered the investor market in the 1970s and inspired the production of Maple Leafs, Vienna Philharmonics and similar bullion coins, only a few pieces were produced in the first few years: in 1967 a total of 50,000 specimens, in 1968 and 1969 a total of 30,000. So, if you want to add this icon of contemporary coinage to your collection, you should seize this opportunity.
Coins and Medals from the German States Including Many Gold Rarities
Lovers of heavy gold medals of perfect condition will find a rich selection at Heidelberger Münzhandlung's auction 85, including the only known specimen of a heavy Rhine-gold medal of Charles Frederick of Baden-Durlach, bearing the year 1796. A 1821 bank portugaleser of 10 ducats from Hamburg features the magnificent depiction of a ship. The three gold suite medals of the Palatine rulers from the Hermann Collection are remarkable, too. The idea for the series had already been brought forward by Elector Charles Philipp. Since no agreement could be reached regarding the legend on the reverse, which was meant to summarize the life's work of these rulers, the project failed and was later taken up by Charles Theodore, who was to become the ruler of Bavaria. While the silver and bronze versions of these medals are rather common, gold versions are extremely rare. On this specimen you can see the portrait of Louis Philip of Palatinate-Simmern (1602-1655), who administered the Electoral Palatinate after the expulsion of the Winter King as Swedish administrator on behalf of his brother, and, after the latter's death, on behalf of his nephew. Last but not least we mention a probably unique gold medal of eight ducats from 1761, which celebrates the elevation of the Speyer bishop Franz Christoph to the College of Cardinals.
Fractional Coins from Bavaria
Those interested in Bavarian coins will find a generous selection at Grün, not only of rare talers, ducats and double ducats but especially of fractional coins from the 15th to the 19th centuries. It is a collection that focuses on rarity and quality, which is why connoisseurs will not only discover great rarities but also pieces of perfect quality. And what's best: fractional coins are still comparatively affordable. Estimates start at 50 euros.
Hohenlohe Series with Many Rarities
A total of ten lots with issues from Hohenlohe and all of its lines can be found in catalogue 85 of Heidelberger Münzhandlung. Several rarities are to be found here. The first piece is an extremely rare, probably so far unknown ducat, which was jointly minted in Nuremberg in 1608. The specialist literature does not know this coin type. Moreover, there is a very rare and extremely fine ducat by Philipp Ernst of Hohenlohe-Waldenburg-Schillingsfürst as well as a medal issued on the occasion of the golden wedding anniversary of Carl Anton of Hohenzollern-Sigmaringen and Josephine of Baden.
An Extensive Collection of Mainz Issues
More than 100 lots are part of the extensive collection of Mainz issues, which is on sale in auction 85 of Heidelberger Münzhandlung. Thanks to its central position and the bishopric, which has existed in Mainz at least since the middle of the 4th century, Roman Mogontiacum became one of the most important cities in Germany. As early as in 782, Mainz became an archbishopric and the Golden Bull of 1356 confirmed that the archbishop of Mainz was to hold the highest office of the empire after the emperor himself, namely the office of Imperial Archchancellor for Germania.
Of course, Mainz has a rich coinage history. The collection on offer covers the early pfennigs of the imperial mint of the 10th century as well as magnificent bracteates from Erfurt, which was under the rule of the Mainz archbishop. Especially Rhenish guldens are well represented, from the first coin types which closely followed the Florentine model to the coins of the various coinage unions and 16th-century issues.
But the collection also contains magnificent ducats, for example a wonderful piece of about FDC quality from 1730, minted under Francis Louis of Palatinate-Neuburg, and a very rare Rhine-gold ducat of 1772 of magnificent extremely fine quality.
The secular rule of the Mainz archbishop ended with the conquest by the French in 1797. The final piece of the collection is a 1796 conventionstaler.
A Prussian Rarity
For collectors of Prussian coins, there is also a great rarity on offer: a double Frederick d'or of Frederick William III from 1832 – a year that is missing in all known collections. Since the piece is of magnificent quality, it will be exciting to see the hammer price it realizes given its estimate of 9,000 euros.
A Series of Coins from the County of Sayn
Collectors of issues from the county of Sayn and all its collateral lines will find a rich selection of 55 lots.
A Perfect Taler from Würzburg
Those who are looking for a taler that actually is of mint state quality should take a look at this wonderful piece from Würzburg, featuring St. Kilian with sword and crosier. The fully centered piece is dated 1636, wonderfully minted and its die was created by a master of his craft.
German Coins After 1871
As usual, Herbert Grün presents his customers with an abundant selection of coins from the German Empire. If you are familiar with Heidelberger Münzhandlung, you know how meticulous they are about coin descriptions. If a piece is described as FDC, it is FDC and it does not display any flaw. Therefore, it will be exciting to see at what price the Proof 1-pfennig piece 1875 H will be sold, which is just perfect with its beautiful copper patina. In our preview, this coin represents the impressive offer of fractional coins from the German Empire. If you look at the estimates, you will immediately notice that this area has not yet caught the attention of investors. Even great rarities of interesting quality can still be purchased at comparably low prices. Let us take the example of the 1882 H 1-mark piece, of which only 109,280 specimens were minted. Although it is about FDC and only displays minuscule scratches, its estimate of 3,000 euros is strikingly different to that of a British or a US coin with such a combination of quality and rarity.
Less than 46,000 pieces were produced of the 1896 Prussian 5-marks piece. The coin was probably produced in Proof quality for a collector and shows the intricacies of the portrait of German Emperor William II in great detail. This rarity is estimated at 5,500 euros. In our preview, this coin represents the rich offer of silver coins from the German Empire that can be found at Heidelberger Münzhandlung.
We also selected a representative piece for the extensive offer of gold coins from the German Empire. It is a 20-marks piece of George II of Saxe-Meiningen, minted in 1914. Only 1001 specimens were produced featuring the effigy of the "Theatre Duke". They all show the by then already 88-year-old ruler with his magnificent beard, who was to die on 25 June of the same year.
As always, Heidelberger Münzhandlung also offers a rich selection of German coins minted after 1918. The auction closes with some banknotes, including a small run of French assignats.
The auction catalogue of Heidelberger Münzhandlung can be purchased for the nominal fee of 12.50 euros at Heidelberger Münzhandlung Herbert Grün, Gaisbergstr. 40, 69115 Heidelberg, Germany; phone: +49 / 6221 / 65 2970; fax: +49 / 6221 / 65 297-29; email.
Of course, the catalogue is also available online.
For further information, visit the website of the Heidelberger Münzhandlung.