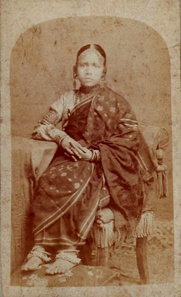 [bsa_pro_ad_space id=4]
by Richard Giedroyc
June 12, 2012 – China and India are two of the largest gold consuming nations on earth. In India, by tradition, the family's wealth in the form of gold jewelry has been typically worn by the wife. Now all that may be changing.
With the exception of perhaps an occasional non-circulating legal tender commemorative the Reserve Bank of India does not issue gold coins. Private businesses produce and market gold medals, often loosely identified as "coins" since India does not have any laws prohibiting this generous description of these bullion pieces.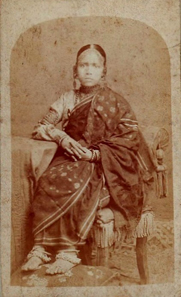 Young girl from Bengal c. 1880 wearing golden earrings, anklets and bracelets. Source: Wikipedia.
Demand for gold ingots and medals (or "coins") increased 83 percent during 2010 from one year earlier. This, according to the Thomson Reuters metals consulting company GFMS, was a total of 349 tons of gold. During 2010 the amount of gold used to produce jewelry rose 36 percents to 685 tons, while investment demand for the yellow metal soared 34 percent during 2010 compared to a 28 percent increase during 2009.
Despite these attractive statistics Shrevas Investment Services financial adviser Biju Daniel told the Reuters India news reporting service September 12, "The current generation is not serious about gold. They have bangles but they don't wear them. Look at college campuses, Indian girls there are not interested in gold jewelry. My wife has about one kilo of gold jewelry but my daughters are not interested."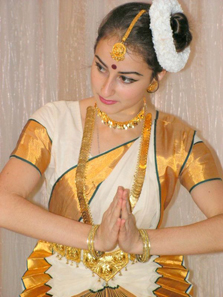 Keralite Dancer in Sari. Source: Wikipedia / Oct11988duh.
This change from wearing the family wealth to keeping it out of the public eye as a store of value or as an investment may not necessarily be a bad thing. Commtrendz Research Director Gnanasekar Thiagarajan was quoted by Reuters India as saying, "Gold has come a long way from being a jewelry item to an alternative currency. Investment demand could surpass jewelry demand in the next two to three years,"
This, of course, depends on the current and possible future appreciation in the price of gold. Gold recently set new record prices, having risen 29 percent during 2011. The price of gold in India has increased 33 percent during the same time, reaching as high as 28,744 rupees for 10 grams. (It takes 31.1 grams to equal one ounce.) At the same time India has an inflation rate of about 10 percent annually. The key lending rate at the Reserve Bank of India (India's central bank) is eight percent, while the stock exchange in Mumbai (Bombay) has declined approximately 16.5 percent during the first three quarters of 2011.
Investment gold, especially in the form of either medals or ingots, is considered to be a better value than is gold jewelry in part because the fabrication costs are significantly lower. Jewelers in the central Janpath district of New Delhi recently reported it costing about $21 US or about 1,000 rupees to produce a 10-gram gold ingot, while the cost of an equivalent piece of jewelry of the same weight would cost about 3,000 rupees or about $63. The cost of gold medals is similar to that of the cost of ingots.
Anther advantage of gold medals and ingots over jewelry is their consistent demand. The style of gold jewelry can become dated, making it more difficult to sell. The value and demand for medals and ingots aren't dictated by the whims and changes in fashion.
Gold medals produced in India are often available in weights of 1, 2, and 8 grams but unlike true coins do not carry a denomination. The consistency in weight and purity make them significantly easier to buy and sell than is gold jewelry.