[bsa_pro_ad_space id=4]
by Björn Schöpe
August 6, 2015 – On 20 October 2014 a licensed metal detectorist reported ten gold coins he had found to the state archaeological department.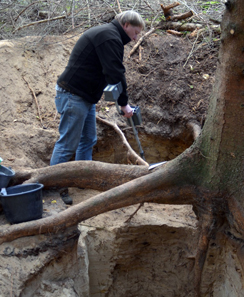 Archaeologists excavated the treasure systematically. Photograph: Solveig Binnewies / Niedersächsisches Landesamt für Denkmalpflege.
In the following weeks professional archaeologists conducted an excavation on the finding spot. Around 1 metre below the surface they found buried under a tree 217 gold coins of the 19th and early 20th centuries. All that remained of the container were two seals and pieces of pasteboard of the reichsbank as the German central bank was called until the end of WW2.
Coins from the treasure. Photograph: Volker Minkus / Niedersächsisches Landesamt für Denkmalpflege.
The 217 coins have a diametre of 21mm and all of them weigh each 6.45g being of .900 gold each coin contains 5.81g of pure gold. 128 coins come from Belgium, 74 from France, 12 from Italy and 3 are Austro-Hungarian issues. The treausure's oldest coin dates back to 1831, the most recent was minted in 1910. These coins were issued in large mintage and have been popular bullion items ever since.
As the coins do not give any information about the time the hoard was buried, other evidence has to be found. The chemical analysis of the pasteboard stabilises a fabrication period of before 1970 probably before 1950.
The two seals bearing the eagle and the swastika indicate when the moneybag was sealed – during WW2. Photograph: Volker Minkus / Niedersächsisches Landesamt für Denkmalpflege.
The two seals feature the reichsadler (eagle) with the swastika and the legend 'Reichsbank Berlin 244'. An identical piece in the Bundesbank collection dates to 1940. The seals must follow a patent from 1930, the metallurgical analysis suggests a production date after 1940.
The gold, hence, came certainly from the Deutsche Reichsbank. Probably it was stolen during WW2 or immediately after, buried under the tree, and then for whatever reason never retrieved. Further interdisciplinary research may reveal more details. Due to the enormous scientific value of this treasure Niedersachsen has claimed its right over the finding.
You can find the website of the state archaeological department here.