[bsa_pro_ad_space id=4]
for Mrs Schäfer from the Heidelberger Münzhandlung
While Alentejo is an insider tip even among insiders and Portugal experts, UNESCO World Heritage Site Sintra is a must-see for every Grand Tour-ist. And rightly so. Still, I would urge you not to visit it on a Sunday.
Sunday, 12 April 2015 – Sintra
We drove from Arraiolos to Cascais. And were almost scared to death. Portugal does not only charge tolls for its highways. To provide an additional adrenaline kick you cannot pay these tolls at pay stations like in Italy, France, and other civilised countries. Instead, car rental agencies offer a device which automatically pays the tolls for a small surcharge. Of course we had rented such a device. But when you approach the imaginary pay stations and read the multilingual threats of all the bad things that might happen to you if you fail to pay your fees, it gives you the creeps.
We realised how the device worked eventually. At a control station that was also a point of payment for once (!) a traffic light switched to green and announced 60 cents for what felt like 100 km. So much fear for so little money!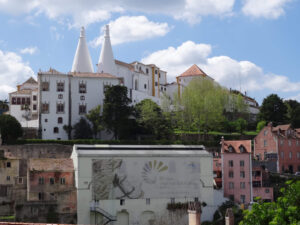 We reached Cascais, Lisbon's favourite seaside resort, in the late morning and found ourselves in a jungle of road signs. Every hotel was signposted. Every hotel but our pousada. But my years of experience working as a travel guide were not for nothing. I instantly realised that the "Pestana Hotel" could only be the pousada as all pousadas have been managed by this hotel group since 2003. So we followed the signpost to the "Pestana Hotel" through the city jungle. Only once we arrived in front of a very modern, blue, bulky building did I have first doubts.
To cut a long story short: it was not the pousada. We had to drive back the whole way. And there were no signposts because the thing was located in the very heart of the city in an old, very noticeable fortification. Well, how would I know? …
Since the day was still young, we decided to visit the close-by Sintra. And were genuinely surprised. The road turned from coastal highway into a pretty steep and tightly wound mountain road. At the sight of the romantic, lush green valleys we were not surprised that those Lisbon residents who can afford it flee the city on hot summer days to cool off in the nearby Sintra.
The place where the Moorish castle stands today was already settled in the Neolithic Age. Numerous dolmens are evidence of settlements in neighbouring towns.
Bronze Age, Iron Age, the residents in prehistoric periods must have been numerous and wealthy. And it stayed that way under the Romans. Varro and the ancient geographer Ptolemy report on this region by referring to it as "lunae mons", the mountains of the moon.
The Arabs equally liked Sintra's cool climate and built a fort in the 8th century.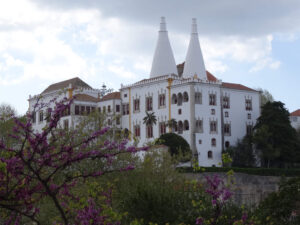 This fort was conquered in 1147 by Afonso I of Portugal and his crusaders when they made camp on their way to the Holy Land (cf. also Portugal Part 4). Many monasteries were founded in this region, whose fertile lands and rugged valleys came together in a perfectly remote landscape.
The king ensured Sintra remained his because its steep hills were, after all, ideally suited to start attacks on neighbouring territories. Since the 14th century at the latest, Sintra was home to a royal palace, which repeatedly took centre stage in Portugal's history.
It was here that John I decided to conquer Ceuta. It was here that Afonso V was born, and here he died. And it was here that John II was proclaimed king.
But it was only in the 19th century that Sintra became really fashionable. At the time, Fernando II had a Portuguese Neuschwanstein built for him by Wilhelm Ludwig von Eschwege.
In case you were wondering why a German mining engineer was trusted with this task, you must know that Maria's II spouse was none other than the German Prince Ferdinand of Saxe-Coburg and Gotha. Germany provided rulers for four royal houses at the time. Just think of Great Britain and Prince Albert. Anyway, Ferdinand proved his worth so much that he was offered both the Greek and Spanish crown after his son had come of age and his spouse had died. He refused both offers only to marry opera singer Elise Friederike Hensler and live with her in Sintra.
The permanent presence of such high-ranking guests made the region very attractive for many aristocratic visitors. Influenced by Romantic ideas, English, German, and American travellers arriving in Sintra in droves could hardly contain themselves. "Perhaps in every aspect the most delightful in Europe; it contains beauties of every description natural and artificial. Palaces and gardens rising in the midst of rocks, cataracts and precipices." (English translation of the quotation taken from here.) That was coming from none other than Lord Byron and he had certainly seen a great many things during his life.
Since 1887 the railway transported those seeking recreation from Lisbon to Sintra. The train was not exactly cheap but fast.
In 1995 the municipality was classified as a UNESCO World Heritage Site, which means that during weekends its streets are not only crowded by hundreds of day-trippers but also by hundreds of tourists discharged by huge busses which come from cruisers lying at anchor in Lisbon.
Of all the possible castles and palaces we could have visited, we decided to go for the old, historical royal palace. First of all, it was conveniently located in the city centre (experienced travellers know that this is a compelling reason). Secondly, 19th century architecture always causes a slight feeling of unease in me. Everything is so perfect that you are easily led to believe the medieval imitations are more authentic than the real ruins next door. Just think of the château du Haut-Kœnigsbourg in Alsace or the Wartburg in Thuringia. Ask 1,000 pedestrians and all of them will tell you that castles in the Middle Ages looked just the same …
I personally much preferred the National Palace. A coat of arms room was for instance built into one of the corner towers by Manuel I. Its magnificent ceiling shows the royal coat of arms in the centre and surrounding it are the coat of arms of the nation's most important noble families.
It is generally a good idea to turn your eyes towards the ceiling in the palace. The Galley room's ceiling portrays the different types of ships that were employed in Portugal's overseas trade.
Of course there are many other details worth your while, like the many portraits of important figures in Portugal's history. Take for instance Don Carlos, famously known from Schiller's eponymous play. As son to Maria of Portugal, Don Carlos was heir not only to the Spanish but also to the Portuguese throne and the circumstances of his death were suspicious to say the least.
In Schiller's dramatic rendition, his father Philipp II hands over Don Carlos to the Great Inquisitor, while in real life his father accused him of conspiracy. His disobedience was blamed on an old accident. When falling down the stairs, Don Carlos had been severely hurt and only saved from seemingly certain death by the world-famous anatomist Vesalius, who performed a trepanation on him. After the accident his behaviour became extremely erratic, which showed for instance in his wish to support the Dutch. (Funny, I bet the Dutch did not see this as a sign of insanity…) Right before his escape from Madrid the heir to the throne was personally arrested by his father. So little was known about the circumstances of his death that the Imperial court in Vienna sent a special envoy to inquire about the events on site. Today it is assumed that the prince developed a kind of eating disorder in captivity and starved to death.
Speaking of which. Sintra's definite highlight is the kitchen, whose chimneys are also a dominant feature of the royal palace's façade. You can learn that meals for several hundred people were prepared in this kitchen. Next to two gigantic ovens is an almost 40 m long cooker, which comfortably seats 20 enormous saucepans lined up one next to the other.
Not to forget the gigantic furnace built into a wall recess that kept ready-to-serve meals warm for hours.
Every visitor coming to Sintra drives the extra mile to the Cabo da Roca, the westernmost point of the European continent.
Which basically means the path winding along the cliffs is one big queue of people.
That is nothing, however, compared to the line of cars slowly creeping their way back from Sintra to Cascais on this late Sunday afternoon. At 10 mph maximum speed great-grandpas raced down the road to show great-grandma and the grandchildren the beautiful views. Behind them were lined up busses, sports cars, and we, so that the perhaps 30 km on the coastal road from Sintra to Cascais took us probably an hour and a half.
That I still remember this day as a great success is thanks to Mrs. Schäfer from the Heidelberger Münzhandlung, who had warmly recommended before our departure that we try a cataplana, come rain or shine. Actually a cataplana is nothing but a tight-locking saucepan. But the Portuguese also call the meals they cook in it cataplana. Preferably a delicious stew made of all kinds of seafood and tons of curry. Add a glass of beautifully light vino verde and life seems enjoyable and very much worth living, even though you have previously spent an hour and a half in your car at 10 mph.
Monday, 13 April 2015 – Mafra
This morning we set off to Mafra, which most art guides indulge in at length. To them it symbolises Portugal's "Second Golden Age" although most central Europeans have never heard of this "Second Golden Age".
It all started when a bunch of explorers discovered gold in the Brazilian heartland at the end of the 17th century, Brazil having been under Portuguese rule for centuries. The region had previously been more or less untouched and hence not exactly lucrative. All of a sudden thousands of knights flocked to Minas Gerais, which derives its name from precisely those mines, to try their luck.
Of course the new riches soon provoked conflict. The residents of Sao Paolo insisted that the right to exploit the mines was theirs and theirs only.  Of course the newly arrived miners had a different take on the matter. And that was the beginning of the War of the Emboabas, which cost several hundred people's lives before the King of Portugal emerged as the triumphant third party when he put the mines entirely under the control of the crown.
From then on, a flood of gold poured from Brazil into Portugal, reaching up to 25 tons (sic!) annually in peak times. And the king spent it on incredible extravaganzas. The Mafra National Palace is one of them. Much less was spent on infrastructure so that Portugal was left just as poor as before once the annual gold supplies decreased and eventually stopped entirely.
Mafra's palace, however, has survived. It is a titanic witness of tasteless pomposity that often goes hand in hand with too much money. The façade alone is 230 m long!
880 halls and rooms, 4,500 doors and windows, 29 courtyards. Even John's V descendants did not know what to do with this completely oversized abode.
They simply did not know how to fill their rooms and so filled it with all their useless junk.
Despite housing a monastery – first inhabited by Franciscan monks, then by the Hermit Friars of St Augustine, then once more by the Franciscans – Mafra remained too large for any sensible usage. So it has served as military quarters since 1834 and parts of it as a museum.
Mafra's library is said to be another definite highlight. Well, frankly, we have seen better. But perhaps we were so put off by the building being so show-offish that we were desensitised for its more subtle beauties.
The next episode is dedicated to two equally oversized buildings, erected, however, by people with better taste. We are going to visit the Batalha Monastery and the Convent of Christ in Tomar, whose main altar is reminiscent of the Church of the Holy Sepulchre in Jerusalem.
Here you will find all episodes of our series "Global Power Portugal".