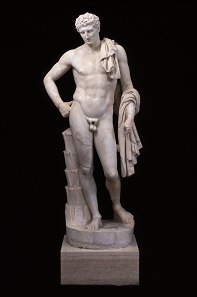 [bsa_pro_ad_space id=4]
September 22, 2016 – As a result of a long-term loan and conservation agreement, the J. Paul Getty Museum puts on view 14 works of art from the Santa Barbara Museum of Art's (SBMA) superb collection of ancient Greek and Roman sculpture. On view in the South Pavilion at the Getty Center, the special installation features a selection of marble and bronze works depicting gods and goddesses, heroes, athletes, and other subjects. Before going on display, several of the loaned objects were undergoing conservation at the Getty Villa, including an important over-life-size Roman statue of the god Hermes (or Mercury), which is receiving extensive work.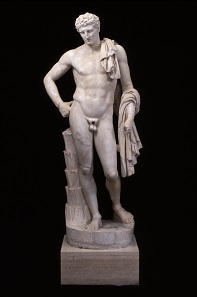 The Lansdowne Hermes. Roman, first half of 2nd century A.D. Marble. SBMA, Gift of Wright S. Ludington.
The Lansdowne Hermes, once considered the most valuable Roman sculpture in England, was discovered in 1771 near Rome. Both the Hermes and the Dionysos statues were purchased by William Fitzmaurice (1737-1805), 2nd Earl of Shelburne and 1st Marquess of Lansdowne, who served as British prime minister from 1782 to 1783. His house in London, known as Lansdowne House, contained a superb collection of ancient Roman sculpture acquired in Italy, including the famous Herakles in the Getty's collection, which is on display at the Villa.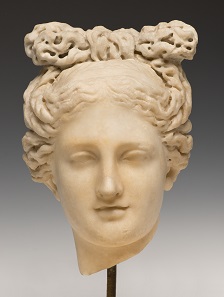 Head of Aphrodite. Roman, 2nd century A.D. Marble. SBMA, Gift of Wright S. Ludington.
All but one of the sculptures on display in the Getty installation are from the collection of Wright S. Ludington (1900-1992), a founder and generous benefactor of SBMA who lived in nearby Montecito, California.
Portrait Head of a Bearded Man. Roman, mid-3rd century. Bronze. SBMA, Gift of Wright S. Ludington.
Like his contemporary J. Paul Getty (1892-1976), Ludington was a passionate collector of Greek and Roman art, though his wide-ranging tastes extended to modern works by Picasso, Matisse, and twentieth-century British artists. Also like Mr. Getty, Ludington acquired important Roman marble statues from the celebrated Lansdowne collection.
For more information on this exhibition, please visit the Getty website.
And this is the website of the Santa Barbara Museum of Art.