[bsa_pro_ad_space id=4]
December 6, 2018 – Two coin dealers at once claim to be the oldest ones in Germany. And both of them seem to be right. But there's a small and important difference between the two.
Dr. Busso Peus Nachf. in Frankfurt am Main: Germany's oldest existing coin dealership.
The oldest existing coin dealership in Germany is Dr. Busso Peus Nachf.
In 1870, Adolph Hess founded his own coin dealership. Its name changed to "Adolph Hess Nachfolger" when it was sold to Louis Hamburger and James Belmonte in 1893. The business had already grown into one of the biggest coin dealerships in Germany by the time Dr. Hermann Feith joined in as a partner in 1910. In 1931, Feith founded an affiliated company in Switzerland. The German office was sold to Dr. Busso Peus and Paul Rothenbächer. In 1940, they were forced to change the name of their business due to anti-Jewish measures implemented by the Nazi government. Rothenbächer was killed during the war and Dr. Busso Peus managed the business on his own after the war. In 1967, he sold it to Dieter Raab and Peter N. Schulten. Dieter Raab passed the position of director and owner to his son Christoph Raab in 2007. Despite some name changes, this coin dealership has existed for 148 years.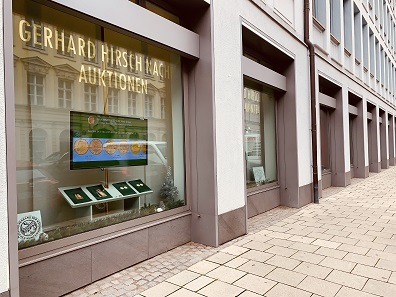 Gerhard Hirsch Nachfolger in Munich: Germany's oldest family-owned coin dealership.
The oldest family-owned coin dealership in Germany is Gerhard Hirsch Nachfolger.
Otto Helbing founded this company in 1878 and held its first coin auction in 1888. In 1900, he made his nephews Moritz (the grandfather of Dr. Bernheimer) and Heinrich Hirsch partners of his business. After Moritz Hirsch passed away, Heinrich Hirsch managed the dealership "Otto Helbing Nachfolger" on his own until Gerhard Hirsch (Moritz's son and the uncle of Dr. Bernheimer) joined the company in 1922 and became co-owner in 1932. Gerhard Hirsch was forced to emigrate to Prague in 1937 and founded another coin dealership under his own name. It remained open until German troops occupied Czechoslovakia in 1939. Otto Helbing Nachfolger was "aryanized", but was returned to Gerhard Hirsch after the war. He reopened his store in Munich in 1953 under his own name and after his passing in 1982, his niece Dr. Francisca Bernheimer became the director. Hence, this coin dealership has been owned by the same family for 140 years.
This week, our experts are all the other German coin dealerships: Do you know of any German coin dealer that is still in business and was founded before the abovementioned years?
More information about both of these long-standing coin dealers is available on the websites of Gerhard Hirsch Nachfolger and Dr. Busso Peus Nachfolger.
The former owner of Dr. Busso Peus Nachf., Dieter Raab, passed away in 2015. CoinsWeekly published an obituary.
If you also would like to submit a CoinsWeekly Coin Record, here is more about what you need to participate.