[bsa_pro_ad_space id=4]
April 30, 2015 – The Deutsche Hutmuseum (German Hat Museum) in Lindenberg opened on 13 December 2014. Lindenberg in the Allgäu used to be the centre of the German straw hat industry. Several million hats were produced every year here and exported all over the world. The new permanent exhibition, conceived and designed by ATELIER BRÜCKNER, illustrates the history of millinery in the context of the town's history. It makes it possible to re-experience the technical process of hat-making and awakens enthusiasm for hat fashion as a part of our cultural history.
© DHML.
The exhibition is located in the former Ottmar Reich hat factory, a remarkable industrial building from the year 1923, which has been reinvented as a culture factory (Jauss+Gaupp Architekten BDA). Two floors, both with around 500 square metres of floor space, accommodate thematic presentations, each of which consists of an impressive central installation surrounded by chronologically arranged units.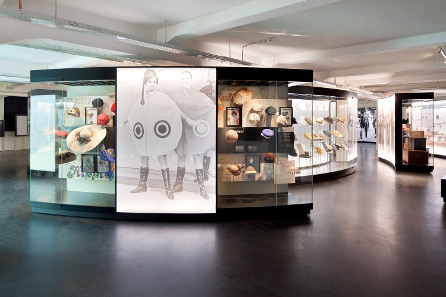 © DHML.
At the first exhibition level on the second floor six thematic islands are dedicated to the history of the town and its hat-making – from the origins of straw-hat production around 300 years ago and the change from working at home to industrial production and the latter's heyday, to today's status quo with only one remaining hat-making company in Lindenberg and another one in a neighbouring village. Media stations and opportunities for hands-on participation have been integrated. They actively involve the visitor, making use of protagonists who tell stories about their lives to bring the past closer to the present.
© DHML.
The prime focus is on hat-making, the processes of which have hardly changed for decades – from the straw to the finished matelot or from the wool to the felt hat. The outer sides of a large manufacturing shelf in the form of a walk-in cube placed in the middle of the space shows the machines used for hat production, while a large-format film on the walls on the inside recreates the atmosphere of a hat factory.
© DHML.
The second exhibition level (3rd floor) continues with this idea. A hat tornado spreads out from the centre and lends its dynamic to the surrounding space. The imposing art installation (Anja Luithle) serves as the setting for some outstanding objects from the museum's inventory and takes the visitor on a journey into the world of fashion. Surrounding, large-format photographs refer to the fashion context of the exhibits and make visitors curious about more detailed themes that correspond to the times being considered and are arranged scenically on the rear of the photo walls. It becomes clear that different kinds of headgear, whether elegant gentleman's hat or skiing cap, were not only fashion items but also social and cultural codes.
More information on the exhibition and the museum you may find here.