[bsa_pro_ad_space id=4]
January 25, 2018 – Global security technology group Giesecke+Devrient (G+D) has concluded a major contract.
G+D helps modernize and safeguard Egypt's cash supply. Southeast of Cairo G+D plans and builds an integrated plant for the production and processing of banknotes. The planned building in a bird's view.
The Central Bank of Egypt has commissioned G+D with planning and building an integrated plant for the production and processing of bank notes in Egypt's new administrative centre, southeast of Cairo. the project, with a volume of around €260 million, includes cutting-edge IT and security infrastructure as well as the setup of further regional centers.
After completion, the plant will cover the majority of the country's banknote printing and processing capacity – thereby supporting Egypt in the smart automation of the cash cycle and in further enhancing banknote security. Construction of the new security complex is scheduled to complete in 2020. "With this significant order G+D expands on its almost 60-year partnership with Egypt. We are delighted to be supporting Egypt with our many years of experience and our leading integration competence," said Ralf Wintergerst, Chairman of the Management Board and CEO of G+D. "It also clearly demonstrates how important cash will continue to be for national economies in the future. The volume of cash is growing by around 3-5 percent each year across the globe."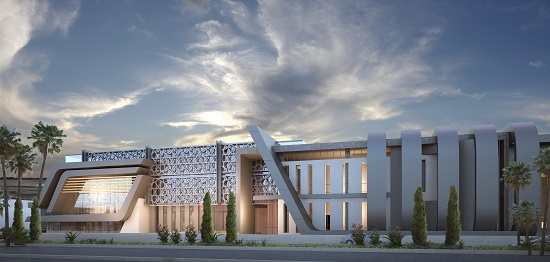 A frontal view of the planned plant.
The G+D Currency Technology business sector will be responsible for implementing the project. "As a technological leader in cash cycle automation, G+D has wide-ranging expertise to draw upon in building the plant. Our solution modernizes the production of highly secure banknotes in Egypt, and contributes to safeguarding one of the country's critical infrastructures with efficient technology," said Dr. Wolfram Seidemann, CEO of G+D Currency Technology. "We are particularly committed to supporting the Central Bank of Egypt in training the approximately 1500 employees of the plant." G+D has been a technology partner to Egypt since 1960. Among other projects, the company has previously built a banknote printing plant and designed a series of banknotes for the country. In addition, G+D installed the national ID card system for Egypt and has also produced SIM cards as well as payment cards for the Egyptian market.
Further information about G+D group can be found here.